National Drug Intelligence Center
Hawaii Drug Threat Assessment
May 2002
---
Overview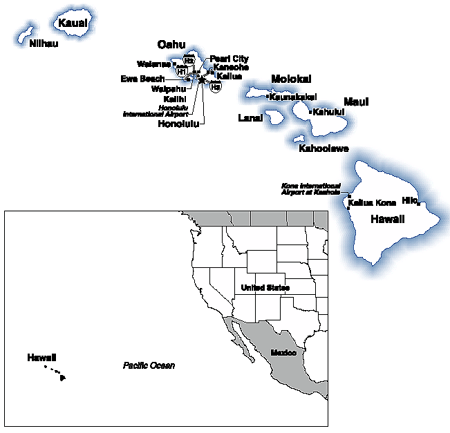 Note: This map displays features mentioned in the report.
Hawaii comprises eight main islands and a 1,500-mile chain of islets covering more than 6,400 square miles. The islands include Hawaii, Kahoolawe, Kauai, Lanai, Maui, Molokai, Niihau, and Oahu. The island of Oahu and the city of Honolulu--the major drug transportation hub in the state--are the focal points for the flow of drugs into the islands. Honolulu, the state capital, is located on the most populated island of Oahu. Honolulu has more than 377,000 residents--nearly 10 times the population of Hilo or Kailua, the next largest cities. Hawaii has approximately 1.2 million residents and ranks forty-second in population. It has the most racially diverse population of any state. Asians account for 41.6 percent of the population, while Caucasians represent 24.3 percent of the population, the lowest percentage of any state. Native Hawaiians account for 9.4 percent; Hispanics, 7.2 percent; and African Americans, 1.8 percent. The remaining 15.7 percent is mixed race. The term Pacific Islander refers to Native Hawaiians, Samoans, Tongans, and individuals from other islands located in the Pacific Basin or those descended from a combination of two or more of these groups. The Pacific Basin includes Hawaii, Guam, China, and Japan, among others.
Hawaii
Population (2000)
1,211,537
U.S. population ranking (2000)
42nd
Median household income (2000)
$43,627
Unemployment rate (2000)
4.3%
Land area
6,423 square miles
Capital
Honolulu
Other principal cities
Hilo, Kailua, Kaneohe
Number of counties
4
Principal industries
Agriculture and tourism
Hawaii depends on commercial maritime imports for an estimated 80 percent of its consumer goods. The Harbors Division of the Department of Transportation has jurisdiction over 10 harbors: Honolulu, Kalaeloa Barbers Point, and Kewalo Basin in the Oahu District; Nawiliwili and Port Allen in the Kauai District; Kahului, Kaumalapau, and Kaunakakai in the Maui District; and Hilo and Kawaihae in the Hawaii District. The port of Honolulu is the sixteenth largest port in the United States; it handled approximately 411,000 TEUs (twenty-foot equivalent units) of container traffic in 1999. Over half of the cargo shipped through Hawaii transits Honolulu, which is the principal port of entry for food products and manufactured goods. Most food products imported into the state originate in New Zealand, the Netherlands, and Japan, while most manufactured goods originate in Japan, Hong Kong, and Taiwan. Although there is no regularly scheduled maritime passenger service between the U.S. mainland and Hawaii, various cargo lines provide passage from the West Coast. The most common departure points are Los Angeles and San Francisco. Hawaii's reliance on imported consumer goods makes it vulnerable to the maritime transportation of drugs into the state.
Air service is the most common means of access to the state. Direct airline service to Hawaii is available on regularly scheduled flights from the West Coast and from most major U.S. cities. Honolulu, Hilo, and Kona at Keahole are Hawaii's three international airports. The Honolulu International Airport, the state's largest, is a port of entry for passengers as well as for air cargo and package delivery services. The Honolulu-Maui and Honolulu-Kauai air routes rank among the 10 busiest in the United States in terms of commercial traffic. Since interdiction efforts are focused primarily at the Honolulu International Airport, drugs sometimes are transported to the other islands in the state, then flown to Oahu using local airlines that offer express flights between islands. Law enforcement authorities estimate that 90 percent of all drugs seized in Hawaii are transported to the state using couriers on commercial flights that originate on the West Coast, primarily California, or via package delivery services.
Hawaii's three principal highways--all located on Oahu--are H1, H2, and H3. The main route to Honolulu from Barbers Point Naval Air Station, located on the southern coast of Oahu, is H1. It extends from Barbers Point Naval Air Station, passes Pearl Harbor where it connects with H2 in central Oahu near Pearl City, and traverses southeast toward the capital. Kailua and Kaneohe are connected to Pearl City via H3. These highways are used to transport drugs throughout Oahu.
Hawaii is a transshipment point for methamphetamine destined for the Pacific Basin from the West Coast and is a source of supply of marijuana for cities in the continental United States. Because of the high volume of drugs transported into and through the state, Hawaii was designated a High Intensity Drug Trafficking Area (HIDTA) in fiscal year (FY) 1999.
In Hawaii there are more than 140 street gangs with over 1,500 members. Most gang-related crime is attributed to Filipino, Hispanic, Native Hawaiian, Samoan, and Tongan street gangs. These gangs distribute most drugs at the retail level throughout Hawaii. Hispanic street gang activity is increasing. Some street gang members have relocated from Los Angeles and San Francisco to Hawaii, particularly Honolulu.
Drug abuse is a serious concern in Hawaii. According to the 1999 National Household Survey on Drug Abuse (NHSDA), 6.7 percent of the respondents aged 12 and older in Hawaii reported using any drug in the past month. Nationally 6.3 percent of respondents reported past month drug abuse. According to the Treatment Episode Data Set (TEDS), the total number of treatment admissions for drug and alcohol abuse in Hawaii increased over 50 percent from 1994 through 1999. During the same period, the number of treatment admissions for drug and alcohol abuse remained stable nationwide.
Per capita spending on substance abuse in Hawaii is significant. The National Center on Addiction and Substance Abuse (CASA) at Columbia University reported that Hawaii spent $368 per resident in 1998 on substance abuse-related services, ranking the state seventh in the nation including Washington, D.C., and Puerto Rico. That same year Hawaii spent $430 million of its annual budget (8.6 percent) on substance abuse-related programs that focused on justice, education, health, child/family assistance, mental health/developmental disabilities, public safety, and the state workforce.
---
To Top To Contents To Next Page