National Drug Intelligence Center
Kentucky Drug Threat Assessment
July 2002
---
Overview
Kentucky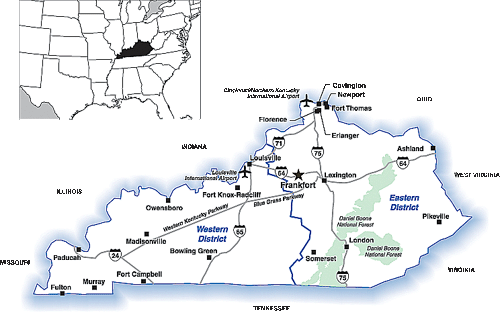 Note: This map displays features mentioned in the report.
Kentucky is located in the south central United States along the western side of the Appalachian Mountains and is bordered by seven states. The state ranks twenty-fifth in population with over 4 million residents. More than 35 percent of the residents are concentrated in 9 of Kentucky's 120 counties, and nearly 52 percent live in urban areas. The Lexington-Louisville-Covington "Golden Triangle," formed by the intersection of Interstates 64, 71, and 75, consists of 24 counties in north central Kentucky and is home to more than 1.7 million residents. This area, known for its economic prosperity, experienced tremendous population growth during the 1990s. Lexington is the largest city in Kentucky and home to the state's largest university. The greater Louisville Metropolitan Statistical Area along the Ohio River Valley--sometimes referred to as "Kentuckiana"--includes more than 1 million residents in three Kentucky and four southern Indiana counties. It is in these densely populated areas that most of the drugs in the state are distributed and abused. Covington, in northern Kentucky, is located directly across the Ohio River from the Cincinnati metropolitan area.
Kentucky
Population (2000)
4,041,769
U.S. population ranking
25th
Median household income (2000)
$37,186
Unemployment rate (2000)
4.5%
Land area
39,732 square miles
Capital
Frankfort
Other principal cities
Bowling Green, Covington, Lexington, Louisville, Owensboro
Number of counties
120
Principal industries
Agriculture, apparel, chemicals, fuel resources, industrial machinery, metals, nonfuel minerals, transportation, transportation equipment
Kentucky has an active agricultural and commercial trade office in Mexico. In order to fill unskilled labor shortages, the commonwealth actively recruits Mexican laborers to work on tobacco, vegetable, and horse farms. Since 1980 the larger Hispanic population in Kentucky has increased 2,000 percent, from approximately 3,000 to 60,000. This increased Hispanic population has made it easier for Mexican criminal groups to operate in Kentucky by infiltrating the law-abiding Hispanic population.
Most commercial traffic in Kentucky involves the transit of goods through the state rather than to or from the state. Kentucky's geographic location and its transportation infrastructure allow easy access to and movement of goods into and throughout the Great Lakes and Southeast regions. The state has five interstate highways (I-24, I-64, I-65, I-71, and I-75) and four improved parkways, (the Western Kentucky, Cumberland, William H. Natcher, and Daniel Boone Parkways) among others, which provide excellent connectivity between Kentucky cities and other states. Illicit drugs concealed in shipments of legitimate goods, transported in private and commercial vehicles or shipped via package delivery services, have an excellent chance of reaching their destinations due to the sheer volume of traffic that transits the state daily.
Kentucky is home to two of the world's busiest airfreight hubs located in Louisville and Hebron. Air cargo facilities at these sites process thousands of foreign and domestic inbound and outbound shipments daily. In Kentucky overnight delivery services have expanded as a result of the growth in electronic commerce. In 1999 Louisville was ranked seventh in the nation and twelfth in the world for its volume of air cargo shipments. The Cincinnati/Northern Kentucky International Airport in Hebron ranked twenty-second in the nation and forty-fourth in the world for air cargo shipments. Since 1999 Kentucky and the nation have experienced a dramatic increase in seizures of illicit drugs and money transported via airborne package delivery services.
Drugs destined for distribution in Kentucky are transported primarily to Louisville, Lexington, and Covington, which serve as distribution cities for the state. Louisville is the primary distribution city and is the most important transportation center in Kentucky for licit and illicit goods. Lexington and Covington are secondary distribution cities. Louisville is a significant road, rail, barge, and air transportation center for the central United States and is a distribution center for commodities destined for the Ohio River Valley. The city is at the crossroads of three interstate highways--Interstates 64, 65, and 71. There are 29 barge terminals along the Ohio River at Louisville. The greater Louisville metropolitan area is serviced by 15 airlines that provide more than 100 nonstop domestic and international flights daily.
A variety of criminal groups and independent dealers distribute illicit drugs at the wholesale and retail levels in Kentucky. No single group appears to dominate drug distribution in Kentucky's urban centers, but Caucasian criminal groups and local independent Caucasian dealers dominate wholesale and retail drug distribution in rural areas of the state.
Street gang activity in Kentucky, particularly in Louisville, Lexington, Fort Knox-Radcliff, and Bowling Green, has decreased significantly since 1996 primarily because of intense law enforcement pressure. Law enforcement agencies across the state have become proactive in pursuing gang-related crime to force gang members underground or out of their jurisdictions. Overall, gang-related violence associated with drug distribution and territorial disputes throughout Kentucky has decreased and, in some cases, disappeared entirely except in the largest cities. The remaining organized gangs have attempted to avoid law enforcement attention by moving drug distribution indoors and avoiding overt confrontations. While some of the street gangs in Kentucky adopt the names of nationally recognized gangs, their affiliations to these gangs are suspect. According to law enforcement authorities in Lexington, some of the gangs in their area have connections to gangs in Detroit. Fort Knox-Radcliff and Bowling Green law enforcement authorities report that young people who have recently moved into the state from Chicago and Detroit brought gang culture and affiliations with them.
Drug-related arrests are at high levels in Kentucky. In fiscal year (FY) 1999 there were more than 45,000 drug-related arrests in the state. Most arrests were for drug possession, and there were more marijuana-related arrests than for any other illicit drug that year. Possession of drug paraphernalia was the second most frequent charge.
Drug-related treatment admissions and drug-related deaths have increased in Kentucky. There was a 26 percent increase in the number of treatment admissions for drug abuse from FY1998 through FY2000. In FY1998 there were 20,812 drug abuse treatment admissions, 25,225 in FY1999, and 26,270 in FY2000. There were also 604 drug-related deaths in Kentucky from FY1994 through FY1999. The number of drug-related deaths in Kentucky increased from 76 in FY1994 to 153 in FY1999. Ninety-one percent were Caucasian, 68 percent were male, and 21 percent were between ages 35 and 39.
Residents of military installations, which have a huge presence in western Kentucky, are not exempt from drug abuse. Fort Campbell, located on the Tennessee border, has a combined military, civilian, and dependent population of 65,000. Fort Knox, located on the Indiana border, has a combined military, civilian, and dependent population of 26,000. These numbers account only for the people who are permanently assigned to these installations, not the thousands of active duty and reserve soldiers who are temporarily assigned for training every year. Fort Campbell officials reported that 438 soldiers in 2000 and 423 soldiers in 2001 tested positive for MDMA (3,4-methylenedioxymethamphetamine), GHB (gamma-hydroxybutyrate), LSD (lysergic acid diethylamide), or methamphetamine. Fort Knox authorities reported that 144 soldiers in 2000 and 101 in 2001 tested positive for marijuana, cocaine, methamphetamine, or LSD.
---
To Top To Contents To Next Page