ARCHIVED
To Contents
To Previous Page
To Appendix B
To Publications Page
To Home Page
---
National Drug Intelligence Center
National Drug Threat Assessment 2006
January 2006

---
Appendix A. Maps
Map 2. National Drug Threat Survey 2005 greatest drug threat as reported by state and local agencies.


d-link
Map 3. Areas of influence of drug trafficking organizations in the United States.


d-link
Source: Drug Enforcement Administration; Organized Crime and Drug Enforcement Task Force.
Map 4. Methamphetamine Threat Progression.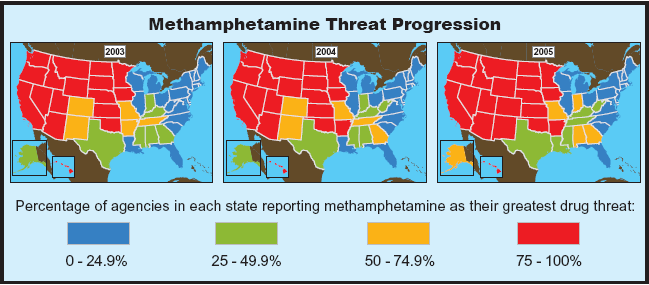 d-link
Map 5. Vectors in the Transit Zone--CCDB-documented cocaine flow departing South America, January-December 2004.


d-link
Source: Interagency Assessment of Cocaine Movement.
Map 6. Principal drug distribution centers.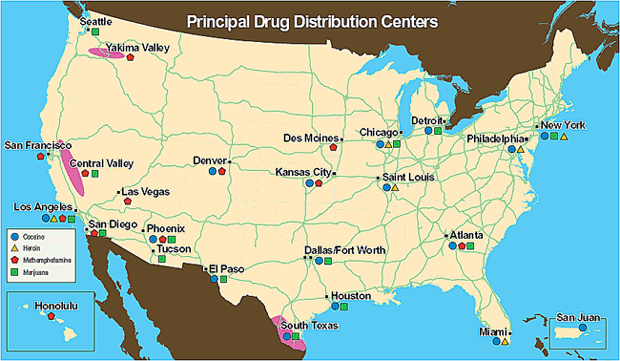 d-link
Principal Distribution Centers (PDCs) were identified primarily through analysis of domestic drug seizure data; however, law enforcement reporting also was considered. Analysis of EPIC data from 2000 through 2004 revealed the cities that were most often identified as the origin or destination of seized drug shipments. These cities constitute most of the identified PDCs. Other cities, however, were included based on law enforcement reporting that indicates these cities are likely as significant as other PDCs, despite somewhat lower associated drug seizures.
---
To Top To Contents To Previous Page To Appendix B
To Publications Page To Home Page
End of page.
---
---