ARCHIVED

To Contents
To Previous Page
To Next Page
To Publications Page
To Home Page
Drug traffickers use various means of conveyance to transport illicit drugs into and through the Appalachia HIDTA region, principally from sources of supply in Atlanta as well as Columbus and Detroit. Drug traffickers also use the same conveyances to transport drug proceeds from the region to the source areas. Traffickers most commonly use private and commercial vehicles to transport illicit drugs into and through the region along primary roadways. Domestic Highway Enforcement (DHE) interdiction teams monitor Interstate 75 in Kentucky; Interstates 24, 40, 75, and 81 in Tennessee; and Interstates 64, 77, and 79 in West Virginia. (See Figure 2.) Traffickers are also using secondary and back roads in an attempt to evade law enforcement interdiction. Additionally, traffickers hire couriers to transport illicit drugs on buses and commercial aircraft. In 2007 DHE seized sizable quantities of illicit drugs and almost $400,000 in U.S. currency from traffickers using interstates in the Appalachia HIDTA region. (See Table 4.) Moreover, drug traffickers and some abusers frequently smuggle illicit drugs, such as marijuana, methamphetamine, and prescription drugs, into the area through package delivery services and U.S. mail.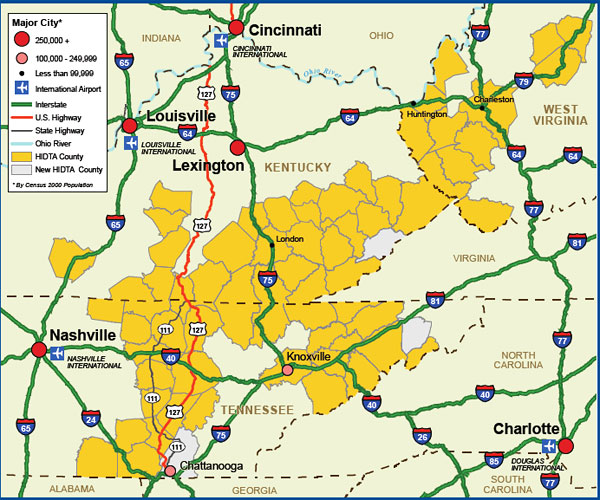 d-link
Cocaine
(kg)
Crack
(kg)
Heroin
(kg)
Marijuana
(kg)
Metham-
phetamine
(kg)
Prescription Drugs*
(dosage units)
GHB
(gallons)
U.S. dollars
Kentucky
0.342
0.049
0.000
331.000
0.106
1,830.0
0
272,862
Tennessee
10.927
0.247
3.171
68.550
0.035
348.0
8
100,044
West Virginia
0.271
0.077
0.075
34.960
0.008
780.5
0
21,729
Total
11.540
0.373
3.246
434.510
0.149
2,958.5
8
394,635
Source: Domestic Highway Enforcement.
* hydrocodone, OxyContin, and Xanax.
Mexican DTOs control the distribution of powder cocaine, Mexican powder and ice methamphetamine, Mexican marijuana, and Mexican brown powder and black tar heroin in the Appalachia HIDTA region; they supply most midlevel and retail-level distributors in the region. Mexican DTOs use stash locations in the region to store illicit drugs prior to distribution, particularly powder cocaine and Mexican marijuana. For instance, officials from the Federal Bureau of Investigation (FBI) Knoxville Field Office apprehended members of a Mexican DTO who rented an apartment in the area specifically to use as a stash house; FBI officials seized 11 kilograms of powder cocaine from the stash site.
A number of traffickers, including Caucasian and African American DTOs, criminal groups, and local independent dealers, distribute illicit drugs at the midlevel and retail level in the region; their methods of operation change little from year to year. Caucasian DTOs and criminal groups are the principal midlevel and retail-level drug distributors in many rural areas of the region; they typically distribute locally produced marijuana, Mexican marijuana, powder methamphetamine, powder cocaine, and prescription drugs. African American DTOs and criminal groups are the principal midlevel and retail-level distributors in many urban areas of the Appalachia HIDTA region; they typically distribute powder and crack cocaine, marijuana, Mexican and SA heroin, methamphetamine, MDMA, and prescription drugs. Retail-level drug distribution generally takes place at open-air drug markets, private homes and businesses, and housing projects throughout the region as well as in prearranged meeting areas such as parking lots; however, most retail distribution in Kentucky takes place in private homes and businesses.
Pharmaceutical drugs typically are obtained by distributors and abusers through doctor shopping, prescription fraud, pharmacy burglaries, and thefts from family members; distributors and abusers also are increasingly purchasing pharmaceutical drugs from Internet pharmacies. In addition, distributors from Michigan and Ohio are purchasing prescription narcotics such as OxyContin in their home states and then transporting and distributing the drugs in southeastern Kentucky because of the profits associated with the distribution of diverted pharmaceutical drugs. For example, the Drug Enforcement Administration (DEA) London Resident Office reported that in early 2008 a Detroit-based DTO purchased 80-milligram OxyContin tablets in Detroit for approximately $22 to $25 per tablet and then sold them for $50 to $80 per tablet in southeastern Kentucky.
Drug traffickers facilitate drug sales in the Appalachia HIDTA region using electronic communications, usually cellular telephones and the Internet. Drug traffickers use cellular telephones with preloaded minutes and no contracts, such as TracFone, because they believe that such telephones are more difficult for law enforcement officials to intercept. In addition, African American street gang members are increasingly using the Internet to communicate, facilitate gang activities, spread gang culture, and coordinate drug sales.
---
To Top To Contents To Previous Page To Next Page
To Publications Page To Home Page
UNCLASSIFIED
---
End of page.
---
---