ARCHIVED
To Contents
To Previous Page
To Next Page
To Publications Page
To Home Page
The Beaumont/Port Arthur area is located approximately 80 miles east of Houston in Jefferson County and is a transit area for drugs transported to markets in southeastern states, including Alabama, Florida, Georgia, Louisiana, and Mississippi, via I-10, as well as illicit proceeds transported west to Houston and the Southwest Border. Significant drug and currency seizures are made by law enforcement authorities along the portion of I-10 that passes through the area.
Ice methamphetamine demand is increasing in Beaumont/Port Arthur; the drug may supplant crack cocaine as the drug of choice in the area. According to Texas DSHS data, the number of adult amphetamine-related treatment admissions (including methamphetamine-related admissions) to publicly funded facilities in Jefferson County has increased 146 percent over the past 3 years, from 26 in 2005 to 64 in 2007. Crack cocaine-related admissions decreased 13 percent from 411 in 2005 to 357 in 2007. (See Table 3 in Abuse section.) Most of the ice methamphetamine available in Beaumont is reportedly transported by traffickers through the use of package delivery services in California and Dallas.
Corpus Christi, located in Nueces County, is a key transshipment area for illicit drugs in the Houston HIDTA region. Although not comparable in scale to Houston in terms of illicit drug activities, Corpus Christi mirrors many of the smuggling activities that occur in the city. Corpus Christi is a transshipment area for illicit drugs, particularly cocaine and marijuana, that are smuggled from Mexico by Mexican DTOs overland in private and commercial vehicles or by maritime methods through the PINS. The city is the first metropolitan area north of the U.S. Border Patrol checkpoints in the Rio Grande Valley, making it an ideal location for DTOs to stash drugs prior to distribution. Stash houses are numerous in and around Corpus Christi and are most often used by traffickers to store cocaine and marijuana prior to transshipment to major markets in the central and eastern United States.
Drug seizure amounts in Nueces County have increased significantly over the past 3 years. According to NSS data, overall drug seizures in the county increased 193 percent, with cocaine, marijuana, and methamphetamine seizures accounting for the majority of the seizures. (See Table 2 in Distribution section.) This increase could be attributed to DTOs changing their method of operation as a result of perceived higher law enforcement scrutiny in other areas of the HIDTA region, particularly Houston, where drug seizures have decreased over the past 3 years. Additionally, Nueces County has a smaller population and more rural areas in which drug activities could be more easily concealed, a circumstance that may be enticing traffickers to increasingly use the area for drug smuggling.
Prison gangs operating in Corpus Christi, including Texas Syndicate and Mexican Mafia, have established direct connections to Mexican DTOs along the U.S.-Mexico border, giving them easy access to wholesale quantities of drugs. Texas Syndicate has the most advanced drug trafficking network in the Corpus Christi area. Members of this gang have local access to many types of drugs; they also smuggle illicit drugs directly from Mexico into the area. Mexican Mafia is involved in drug and alien smuggling. Mexican Mafia members reportedly pick up drugs and aliens in the Rio Grande Valley and smuggle them to the area.
Southern Houston HIDTA Region
The southern portion of the Houston HIDTA region, south of Corpus Christi, is the main entry point for drugs smuggled into the area; most enter through the Brownsville, Hidalgo, and Progreso POEs. (See Figure 2 in Drug Markets section.) This sparsely populated area is close to the U.S.-Mexico border and comprises mainly ranch properties. Drug shipments from Mexico generally transit the area; distribution in the area is limited because of the area's sparse population. U.S. Highway 77, which extends from the Brownsville POE, and US 281, which extends from the Progreso and Hidalgo POEs, serve as major corridors for drugs smuggled north from South Texas. The successful movement of drug shipments through these POEs and, later, through the two Border Patrol checkpoints--one in Kingsville/Sarita in Kenedy County on US 77 and one in Falfurrias in Brooks County on US 281--is a critical phase of drug transportation from the U.S.-Mexico border. The two HIDTA counties in which these checkpoints are located accounted for 64 percent of total drug seizures in the HIDTA in 2007. (See Table 2 in Distribution section.) Drug shipments increase significantly in value after successfully passing through the POEs and again after passing through these checkpoints. For example, 1 pound of marijuana purchased in Mexico for $40 to $50 typically increases in value to $200 per pound when smuggled across the border and further increases to $250 to $400 per pound north of the checkpoints. Additionally, large quantities of bulk cash are smuggled south through this portion of the HIDTA region. For example, in January 2008 officers from the Kingsville Police Department seized over $1 million from a vehicle being driven south on US 77.
Padre Island National Seashore
Mexican DTOs use the PINS as an entry point to smuggle drugs and illegal aliens. The PINS is located on an undeveloped natural barrier island that extends south from Corpus Christi to the Mansfield Channel, a waterway that divides the PINS from South Padre Island. (See Figure 3.) The PINS and South Padre Island consist of 95 miles of mostly uninhabited and undeveloped beaches that offer traffickers an attractive venue for maritime smuggling. Mexican DTOs often use the area for smuggling operations to avoid enhanced overland border protection at the checkpoints in Kingsville/Sarita and Falfurrias. Seashore visitors have reported witnessing illicit deliveries from shark boats to land vehicles; such smuggling operations pose a danger to visitors if they are perceived as a threat by traffickers.
Figure 3. Padre Island National Seashore.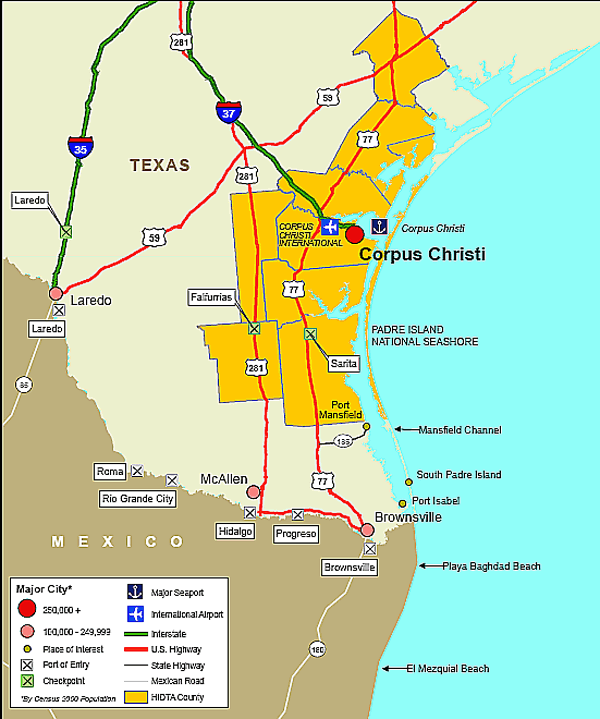 d-link
DTOs use shark boats,8 or "lanchas," to smuggle cocaine, marijuana, and illegal aliens to the PINS. Shark boats typically depart from Playa Baghdad and El Mezquial, Mexico, approximately 20 miles south of the U.S.-Mexico border on Mexico's east coast. It is common for 10 to 20 shark boats loaded with drugs or illegal aliens to leave Playa Baghdad Beach and flood an area along the PINS. DTOs also hire fishermen in Mexico to use their boats to smuggle contraband into the PINS; some Mexican fishermen may be particularly susceptible to recruitment by traffickers because the Mexican fishing industry has collapsed as a result of overfishing and loss of fishing grounds. Traffickers engage in most smuggling activity through the PINS during the night to avoid detection. Once a shipment of drugs or illegal aliens reaches the PINS, traffickers on the shore generally retrieve the contraband from the traffickers manning the boat. Traffickers use Park Route 22, the only accessible land route to the PINS, to transport illicit drug shipments and illegal aliens from the island. Drugs are then transported to Corpus Christi, where they are stored in stash houses for later distribution. Illegal aliens are transported to Corpus Christi prior to moving to other locations in the United States.
Marijuana and, to a lesser extent, cocaine are the drugs most often smuggled through the PINS. The size and number of marijuana seizures have increased significantly in the PINS during the past several years; shipments in excess of 1,000 pounds are now common. For example, in September 2007 over 1,200 pounds of marijuana were discovered among the sand dunes by U.S. Customs and Border Protection on routine air patrol. The number of seizures most likely has increased as a result of better intelligence and increased law enforcement attention in the area. Very little is known about cocaine trafficking through the PINS; most seizures of the drug are limited to shipments that wash ashore.
---
End Notes
7. regarding drug-related activities in outlying markets often is not as readily available as is information in metropolitan areas. This section addresses particular markets and includes information gleaned from available law enforcement reporting and interviews.
8. boats, also known as lanchas, are low-riding vessels that can endure voyages of up to 19 hours while carrying over 1,000 pounds of illegal drugs or 10 to 20 illegal aliens.
---
To Top To Contents To Previous Page To Next Page
To Publications Page To Home Page
UNCLASSIFIED
---
End of page.
---
---