ARCHIVED

PDF Version
To Publications Page
To Home Page
Money Laundering in Digital Currencies
Publication Date: June 3, 2008
Document ID: 2008-R0709-003
Archived on: January 1, 2011. This document may contain dated information. It remains available to provide access to historical materials.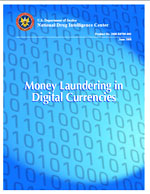 This assessment describes digital currencies and the digital currency system and how they are used to launder and move funds.
Your questions, comments, and suggestions for future subjects are welcome at any time. Addresses are provided at the end of the page.
---
---
Key Judgment
Digital currencies combine the intrinsic value of gold and other precious metals as well as the designated value of national currencies with the worldwide reach of the Internet to create an ideal mechanism for international money laundering. Users can anonymously fund digital currency accounts, send those funds (sometimes in unlimited amounts) to other digital currency accounts worldwide, and effectively exchange the funds for foreign currencies--often while bypassing U.S. regulatory oversight.
---
National Drug Intelligence Center
319 Washington Street, 5th Floor
Johnstown, PA 15901-1622
Tel. (814) 532-4601
FAX (814) 532-4690
Email NDIC.Contacts@usdoj.gov
National Drug Intelligence Center
United States Department of Justice
Robert F. Kennedy Building (Room 1335)
950 Pennsylvania Avenue NW
Washington, DC 20530
Tel. (202) 432-4040
FAX (202) 514-4252

Web Addresses
ADNET: http://ndicosa
DOJ: http://www.usdoj.gov/archive/ndic/
LEO: https://www.leo.gov/http://leowcs.leopriv.gov/lesig/archive/ndic/index.htm
RISS: ndic.riss.net
---
To Top To Contents To Next Page
To Publications Page To Home Page
---
End of page.
---
---