UNCLASSIFIED
ARCHIVED

To Contents
To Previous Page
To Next Page
To Publications Page
To Home Page
U.S. Southwest Border Smuggling and Violence
Most illicit drugs available in the United States and thousands of illegal immigrants are smuggled into the United States across the nearly 2,000-mile Southwest Border, including through the Tohono O'odham Reservation (see text box). Conversely, a significant amount of illegal firearms and weapons as well as bulk currency are smuggled from the Southwest Border region into Mexico. Intensified counterdrug operations, in addition to intracartel and intercartel warfare and plaza competition, have resulted in unprecedented violence in northern Mexico and the potential for increasing violence in the United States.
The Illicit Drug Threat in Indian Country
The illicit drug threat in Indian Country varies by region and is influenced by the illicit drugs available in major cities near the reservations. Most illicit drugs available throughout Indian Country are transported to reservations by Native American criminal groups and independent dealers who travel to nearby cities to purchase drugs, primarily from Mexican DTOs and criminal groups. Traffickers also smuggle large amounts of illicit drugs, primarily marijuana, into the United States from Canada and Mexico through reservations that border these countries, namely the St. Regis Mohawk Reservation in New York, commonly referred to as the Akwesasne, and the Tohono O'odham Reservation in Arizona.
Multiple tons of high-potency marijuana are smuggled through the St. Regis Mohawk Reservation each week by Native American DTOs that are supplied by Canada-based DTOs. Native American DTOs also smuggle multithousand-tablet quantities of MDMA into the United States and multikilogram quantities of cocaine into Canada through the reservation. As much as 20 percenta of all high-potency marijuana produced in Canada each year is smuggled through the St. Regis Mohawk Reservation, which accounts for less than half a percent of the U.S.-Canada border. The shared international border and geography of the reservation make it conducive to cross-border drug trafficking activity while also inhibiting law enforcement interdiction efforts.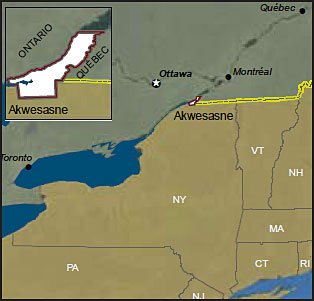 d-link
An estimated 5 to 10 percentb of all the marijuana produced in Mexico is transported by highly organized and compartmentalized Mexican DTOs each year through the Tohono O'odham Reservation, which accounts for less than 4 percent of the U.S.-Mexico border. These traffickers also smuggle lesser amounts of cocaine, heroin, and methamphetamine. Drug traffickers exploit the vast stretches of remote, sparsely populated desert, the 75 miles of largely unprotected border with Mexico, and the highways that connect the reservation to major metropolitan areas to distribute illicit drugs in markets throughout the United States.

d-link
---
a. -derived estimate based on law enforcement reporting and Royal Canadian Mounted Police production estimates.
b. -derived estimate based on law enforcement reporting and production estimates for Mexico.
Several recent, large counterdrug initiatives in the United States and Mexico have been implemented to directly disrupt Mexican cartel operations. For example, in March 2008, the GOM initiated Operation Chihuahua in response to increased drug-related violence between the Juárez and Sinaloa Cartels over drug smuggling plazas in the Mexican border state of Chihuahua. Since then, more than 7,500 soldiers and 2,000 federal agents have been deployed to cities within the state, including Asunción, Buenaventura, Casas Grandes, Chihuahua City, Ciudad Juárez, Janos, Ojinaga, Nuevo Casas Grandes, and Palomas. Operation Chihuahua most likely resulted in seizures of drug shipments before they reached the U.S.-Mexico border, although official seizure statistics are not available. Similarly, the DEA-led Operation Xcellerator, which targeted the U.S. operations of the Sinaloa Cartel, concluded in November 2009 and resulted in 781 arrests and the seizure of more than 12,000 kilograms of cocaine, 17,000 pounds of marijuana, 1,200 pounds of methamphetamine, 1.3 million MDMA tablets, $61 million in U.S. currency, four aircraft, and three maritime vessels.
In addition to customary land smuggling practices, Mexican DTOs use alternative means to move contraband north across the border. These means include the construction and use of cross-border tunnels and subterranean passageways (see text box), and some increased use of low-flying small or ultralight aircraft, which most often are used to smuggle marijuana. For example, in the Yuma, Arizona, area, at least eight ultralight aircraft have been spotted since October 2008, after only sporadic reporting of such incidents along the entire border area in previous years. Additionally, in mid-November 2009, at least three suspected ultralight incursions were reported in New Mexico--two in Luna County and one in Hidalgo County.
Traffickers' Use of Subterranean Tunnels Along the Southwest Border
The number of tunnels extending from Mexico into the United States has increased, suggesting that DTOs consider these tunnels as useful investments to smuggle drugs into the United States. In fiscal year (FY) 2008, U.S. Customs and Border Protection (CBP) officers along the U.S.-Mexico border discovered 16 subterranean tunnels, the majority of which were in the Tucson Sector, which encompasses a border area of 262 miles from the New Mexico state line to Yuma County, Arizona. In FY2009, authorities discovered 26 subterranean tunnels, 20 of which were in the Tucson Sector, primarily in the area of Nogales. During this same period, CBP officers discovered 5 tunnels in California, 4 of which were located in the San Diego Sector. In February 2009, CBP initiated a program designed to impede the construction of tunnels in Nogales's extensive drainage system. The initiative involved the construction of a 12-foot-deep steel and concrete underground wall that extends 100 yards along the border near the DeConcini POE in Nogales.
Source: U.S. Customs and Border Protection; National Southwest Border Counternarcotics Strategy 2009.
Of some concern to law enforcement officials is the potential for cross-border drug smuggling routes to be used to move terrorists or weapons of mass destruction into the United States. However, there have been no documented incidents of this type involving Mexican DTOs, and according to federal law enforcement officials, the involvement of Mexican DTOs in this type of activity is very unlikely; intelligence and law enforcement reporting indicates that DTOs have not demonstrated any interest or intent in engaging in conducting smuggling on behalf of terrorists.
Mexican DTOs employ gang members who collect unpaid debts by using threats, extortion, and intimidation and who murder rival traffickers or noncompliant members in Mexico and, to a far lesser extent, the United States. Mexican DTOs also use gang members to enforce control of drug trafficking routes from Mexico into the United States. Mexican DTOs have reportedly increased their efforts to recruit gang members along the Southwest Border. Gang members who are U.S. citizens are a particularly valuable asset to Mexican DTOs because they can normally cross the U.S.-Mexico border with less law enforcement scrutiny and therefore are less likely to have illicit drug loads interdicted.
In 2009, between 6,500 and 8,000 individuals (according to unofficial estimates) were murdered in Mexico as cartels battled for control over smuggling corridors and responded to increased pressure from the GOM. This high number of cartel-related murders reflects a steep increase over previous years. The most violent conflict is concentrated in, but not limited to, the Juárez Plaza. The Joaquín Guzmán-Loera Organization is challenging the Juárez Cartel for control of drug trafficking in the Juárez Plaza. Actions on the part of the Joaquín Guzmán-Loera organization and efforts by the Juárez Cartel to exercise greater control over the Juárez Plaza have resulted in increased violence between the two cartels.
Although much of the violence attributed to conflicts over control of smuggling routes has been confined to Mexico, some has occurred in the United States. Violence in the United States (see text box) has been limited primarily to attacks against alien smuggling organization (ASO) members and their families--some of whom have sought refuge from the violence in Mexico by moving to U.S. border communities such as Phoenix. For example, in recent years, kidnappings in Phoenix have numbered in the hundreds, with 260 in 2007, 299 in 2008, and 267 in 2009. Often, the U.S. kidnapping victims have some connection to alien smuggling or local drug trafficking activities, although some are innocent family members or relatives of alien smugglers or drug traffickers. Kidnappings related to alien smuggling often occur because smugglers demand more money for their services. Kidnappings related to drug trafficking usually occur only as a direct result of localized drug trafficking activities. For example, an individual or individuals may be kidnapped because of a lost drug load or failure to pay a drug debt. The number of U.S. kidnapping incidents is most likely underreported because many victims' families are unwilling to report the crime for fear that the victim will be killed, the kidnappers will retaliate against the family, or law enforcement will discover the family's drug trafficking activities or illegal alien status.
Violence in the United States
Direct violence similar to the conflicts occurring among major DTOs in Mexico is rare in the United States. Incidents of direct intercartel or intracartel violence have not materialized in the United States in a manner that in any way resembles the widespread cartel violence in Mexico. Nevertheless, some reports of DTO or cartel violence occasionally emerge, including some incidents in 2009. More typical, however, is indirect violence within DTOs or cartels. Indirect violence takes many forms: drug customers who owe money are kidnapped until payment is made and cartel employees who fail to deliver the contraband or the expected proceeds are disciplined through beatings, kidnappings, torture, or death.
Adding to the violence are assaults against U.S. law enforcement officers assigned to posts along the Southwest Border. While most of these assaults are related to alien smuggling activities, it is likely that some of the incidents are perpetrated by individuals involved in drug smuggling. Assaults against U.S. Border Patrol (USBP) agents increased 46 percent from 752 incidents in FY2006 to 1,097 incidents in FY2008. Contributing most to this increase were rocking assaults, which rose 77 percent from 435 incidents in FY2006 to 769 incidents in FY2008. However, some assaults against USBP agents in California have been deadly, including the January 2008 murder of a USBP officer who was struck and killed by the automobile of a fleeing drug suspect in Imperial County and the fatal shooting of a USBP officer investigating suspicious activity in Campo in July 2009.
Thousands of weapons are smuggled from the United States to Mexico every year, according to the ATF. It is unclear how many of these weapons are smuggled into Mexico by DTOs or how many ultimately come into the possession of DTOs. Nevertheless, some percentage of this weapons smuggling is orchestrated by DTOs. The U.S. weapons that these DTOs acquire originate in cities in Arizona, California, and Texas. Mexican DTO-linked enforcement groups and gang members purchase firearms and ammunition from Federally Licensed Firearms Dealers at gun stores, gun shows, and pawn shops and from unlicensed dealers at gun shows, often using straw purchasers to insulate themselves from the transactions. The firearms and ammunition are then smuggled from the United States to Mexico on behalf of Mexican DTOs.
The Southwest Border region is the principal entry point for undocumented aliens smuggled from Mexico, Central America, and South America by ASOs. These ASOs often pay fees to Mexican DTOs for the right to operate along specific routes in certain border areas.
Additionally, some aliens that attempt to cross the U.S.-Mexico border illicitly each year and are encountered by law enforcement are from special-interest countries including Afghanistan, Iran, Iraq, and Pakistan; these special interest aliens, numbering in the hundreds, constitute a very small fraction of annual border apprehensions at the U.S.-Mexico border by law enforcement. Available reporting indicates that some alien smuggling organizations (ASOs) in Mexico specialize in moving special-interest aliens into the United States; however, among the aliens from special-interest countries that have been encountered at the U.S.-Mexico border over at least the past five years, none documented to be a known or suspected terrorist has been known to be assisted by a DTO.
Of particular concern is the cross-border transit of criminal gang members who pose public safety threats to communities throughout the U.S.-Mexico border region and the country. These individuals include members of transnational gangs such as Barrio Azteca, Mara Salvatrucha (MS 13), and Sureños (including 18th Street, Florencia, and Los Wonders), who transit the U.S.–Mexico border illicitly and smuggle drugs or weapons on behalf of Mexican DTOs.
---
Footnotes
10. is defined as the throwing of rocks at Border Patrol agents by drug or alien smugglers with the intent of threatening or causing physical harm to the agent.
11. purchasers are intermediaries who acquire one or more firearms from a licensed firearms dealer on behalf of another person. The purpose is to hide the identity of the true purchaser or ultimate possessor of the firearm(s).
---
UNCLASSIFIED
---
End of page.
---
---