UNCLASSIFIED
ARCHIVED

To Contents
To Previous Page
To Next Page
To Publications Page
To Home Page
Drug Threat Overview
The trafficking and abuse of ice methamphetamine are the greatest drug threat to the Arizona HIDTA region. According to the National Drug Intelligence Center (NDIC) 2010 National Drug Threat Surveyb (NDTS), 22 of 39 respondents in the Arizona HIDTA region report that ice and powder methamphetamine are the greatest drug threat to their jurisdictions; a significant number (11) report the same for marijuana. (See Figure 2.)
Figure 2. Greatest Drug Threat in the Arizona HIDTA Region as Reported by State and Local Law Enforcement Agencies, by Number of Respondents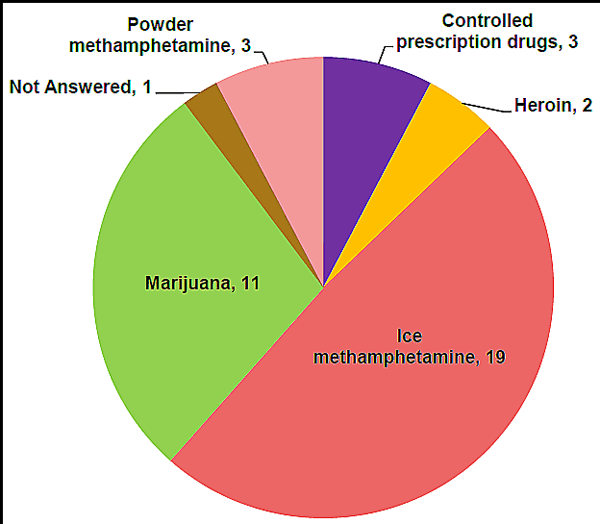 d-link
Source: National Drug Threat Survey 2010.
The availability of Mexican methamphetamine is increasing in the Arizona HIDTA region as a result of rising production in Mexico. (See text box.) Increased seizures of, and lower prices for, methamphetamine also indicate that the availability of the drug is significantly higher than in previous years. Methamphetamine seizures in Arizona increased by 93 percent in 2009 over 2008. (See Table 1.) Prices also fell from $26,000 per kilogram in 2008 to $16,000 per kilogram in 2009, indicating that the supply was unaffected by the increased seizures.
Mexican Methamphetamine Availability
In 2005, the government of Mexico (GOM) began implementing progressively increasing restrictions on the importation of ephedrine and pseudoephedrine to address widespread use of these chemicals in illicit methamphetamine production. By 2007, the GOM had announced a prohibition on importing these chemicals into Mexico in 2008 and a ban on the use of both chemicals, beginning in 2009. These precursor restrictions disrupted methamphetamine production, resulting in a more than 50 percent decrease in the amount of methamphetamine seized along the Southwest Border from 2005 to 2007. However, the GOM reported a dramatic increase in methamphetamine laboratory seizures from 2008 (47) through November 2009 (178), and according to U.S. Customs and Border Protection (CBP), the amount of methamphetamine seized along the Southwest Border in 2009 was the highest annual seizure amount since 2005. Increased laboratory seizures in Mexico and border seizures of methamphetamine are indicative of rising Mexican methamphetamine production since 2007 as a result of Mexican producers using alternative production methods or finding foreign sources for illicit ephedrine and pseudoephedrine.
Source: U.S. Customs and Border Protection; Drug Enforcement Administration.
Table 1. Drugs Seized in Arizona HIDTA Counties, in Kilograms, 2005-2009
Year
Cocaine
Heroin
Marijuana
Methamphetamine
3,522
44
309,234
709
2,560
69
411,454
583
2,394
71
616,976
467
1,989
131
474,286
391
2,800
235
722,601
755
41%
79%
52%
93%
Source: National Seizure System data as of April 1, 2010.
Forty-two percent of all marijuana seizures along the entire Southwest Border in 2009 took place in the Arizona HIDTA region, making it one of the primary arrival zones for marijuana entering the United States from Mexico. Seizures of large shipments of 1,000 pounds or more fell from 351,156 pounds (30% of total marijuana seizures) in 2008 to 281,078 pounds (16% of the total) in 2009. Conversely, midsize seizures, ranging from 200 pounds to 500 pounds, increased from 464,389 pounds (41% of total marijuana seizures) in 2008, to 829,696 pounds (49% of the total) in 2009. The number of incidents shows an even greater disparity. In 2008, there were 185 seizures of 1,000 pounds or more; large seizures fell by 21 percent to 146 in 2009. The number of midsize seizures, however, jumped from 1,555 in 2009 to 2,744 in 2009, a 76 percent increase. This shift indicates that traffickers are smuggling smaller loads across the border in order to minimize losses suffered from law enforcement seizures of marijuana. Marijuana prices were stable from 2008 to 2009 at $1,100 per kilogram, indicating a ready supply of the drug in the region.
Heroin and cocaine seizures also increased in the region in 2009. Wholesale prices for heroin remained steady in 2009 at approximately $33,000 per kilogram, indicating that despite increased seizures, availability remained unchanged. However, increased seizures of cocaine affected the drug's availability, since wholesale prices for cocaine rose from $15,000 per kilogram in 2008 to $22,000 per kilogram in 2009.
CPD abuse is an increasing concern in the Arizona HIDTA region. The Arizona Arrestee Reporting Information Network (AARIN) reports that the number of Maricopa County arrestees testing positive for opiatesc jumped from approximately 2 percent of arrestees in the fourth quarter of 2008 to more than 20 percent of arrestees in the fourth quarter of 2009. These data are indicative of the growing problem of prescription opioid and heroin abuse.
The vast majority of CPDs distributed and abused in the Arizona HIDTA region are obtained through fraudulent means, such as doctor-shopping, prescription fraud, and treatment in pain clinics throughout Arizona. In addition, there have been reported armed robberies in the Phoenix metropolitan area that involved OxyContin/oxycodone products. Also, law enforcement authorities in Graham and Greenlee Counties, which are not HIDTA-funded counties in Arizona, report that CPD abuse has increased significantly in those counties.
---
Footnotes
. NDTS data for 2010 cited in this report are as of March 3, 2010. NDTS data cited are raw, unweighted responses from federal, state, and local law enforcement agencies solicited through either NDIC or the Office of National Drug Control Policy HIDTA program. Data cited may include responses from agencies that are part of the NDTS 2010 national sample and/or agencies that are part of HIDTA solicitation lists.
. Opiates include heroin and prescription pain relievers such as hydrocodone, oxycodone, codeine, meperidine, and propoxyphene.
---
UNCLASSIFIED
---
End of page.
---
---