National Drug Intelligence Center
Florida Drug Threat Assessment
July 2003
---
Overview
Florida.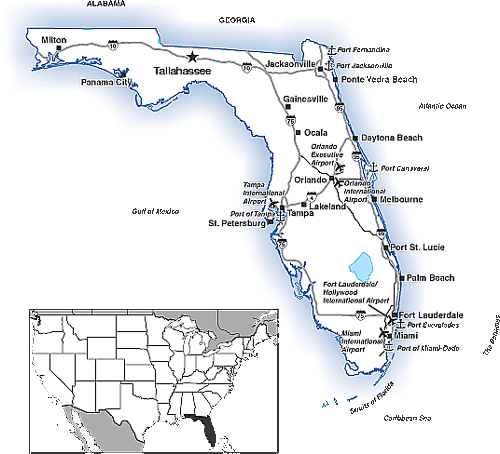 Note: This map displays features mentioned in the report.
With over 16 million residents, Florida is the fourth most populous state in the nation. Over 10 million individuals, approximately 63 percent of Florida's population, reside in the counties encompassing Florida's 12 largest metropolitan areas. Five million individuals reside in Broward, Miami-Dade, and Palm Beach Counties in southern Florida. The largest metropolitan areas are ethnically diverse. This ethnic diversity, coupled with a high population density, allows members of Colombian, Dominican, Mexican, Jamaican, and other foreign drug trafficking organizations (DTOs) and criminal groups to blend easily with law-abiding members of the community. Further, large portions of the state are rural and agricultural in nature--ideal sites for the production of methamphetamine and the cultivation of cannabis.
Florida
Population (2001)
16.4 million
U.S. population ranking
4th
Median household income (2000)
$37,998
Unemployment rate (2000)
3.6%
Land area
53,927 square miles
Shoreline
8,426 miles
Inland water
11,761 square miles
Capital
Tallahassee
Other principal cities
Fort Lauderdale, Jacksonville, Orlando, Miami, St. Petersburg, Tampa
Number of counties
67
Principal industries
Agriculture, banking, government, retail services, tourism
Florida's proximity to drug-producing and transshipment countries and its well-developed transportation infrastructure make it an ideal gateway for the movement of both licit and illicit goods into and through the United States. Drug transporters frequently use maritime vessels, commercial and private aircraft, and package delivery services to smuggle illicit drugs into Florida. They also use commercial trucks and private vehicles and, to a lesser extent, buses and railcars to transport drugs into the state. Many of these conveyances also are used to transport illicit drugs from Florida to other states and cities--particularly New York and Atlanta--that serve as major transportation hubs and distribution centers for various illicit drugs.
Florida has 14 major deepwater ports on the Gulf and Atlantic coasts. It ranks second among the U.S. states for having the longest shoreline and third for having the most square miles of inland water. Longshoremen at Gulf ports primarily process domestic cargo, while those on the Atlantic coast primarily process international cargo. In 2001, 60 percent of all U.S. trade with Central America, 46 percent with Caribbean nations, and 27 percent with South America flowed through the Port of Miami. The term trade refers to the dollar value of goods that pass through the port. Over 2.5 million containers passed through Florida's ports in fiscal year (FY) 2001. Miami ranked first in the state in the number of containers handled that year. The Port of Tampa, which specializes in bulk cargo, is the busiest seaport in Florida in terms of total cargo tonnage and handles nearly half of all seaborne cargo passing through the state. It is the eighteenth busiest port in the country and twenty-fifth busiest in the world in terms of foreign cargo tonnage. Longshoremen at the port processed almost 46.5 million tons of cargo, including 15.0 million tons of foreign goods in 2000, the most recent year for which these data are available. Further, longshoremen processed 22.5 million tons of cargo at Port Everglades (Fort Lauderdale) and 19.7 million tons of cargo at Jacksonville, the next two busiest seaports in Florida in terms of total cargo tonnage.
Florida Seaports
Fort Pierce
Jacksonville
Key West
Manatee
Miami
Palm Beach
Panama City
Pensacola
Port Canaveral
Port Everglades
Port Fernandina
Port St. Joe
St. Petersburg
Tampa
DTOs and criminal groups frequently smuggle large quantities of illicit drugs from source and transit countries to Florida via maritime conveyances, primarily in containerized cargo vessels, coastal freighters, and go-fast boats. Fishing vessels, bulk freighters, cruise ships, and other commercial and private watercraft also are used. U.S. Customs Service (USCS) officials in Florida seized over 44.2 metric tons of illicit drugs aboard maritime vessels in 2001. Drugs smuggled aboard commercial vessels often are intermingled with legitimate goods such as fruit, vegetables, detergent, coffee, and seafood inside shipping containers or concealed within the walls of the container itself. Drugs smuggled aboard coastal freighters or bulk cargo ships are typically concealed in false compartments and fuel tanks. Several different types of maritime vessels are used to smuggle a single drug shipment. Coastal freighters, generally used in South Florida and the Florida Keys, often serve as "motherships" from which large shipments of drugs, primarily cocaine or marijuana, are offloaded at sea to smaller vessels such as go-fast boats and commercial or private fishing vessels. Smaller vessels then typically transport the drugs directly into Florida.
Five seaports in Florida--Port of Miami, Port Everglades, Port of Tampa, Key West, and Port Canaveral--handle a significant amount of cruise ship traffic daily. In FY2001 almost 12 million individuals arrived and departed on cruise ships in Florida. Of those, approximately 7 million cruise ship passengers used the Port of Miami and Port Canaveral that year. Miami often is referred to as the cruise capital of the world because approximately 17 cruise ships dock in Miami harbors. Most cruise ships depart from Florida for destinations in the Caribbean, a major drug transshipment area for cocaine and South American heroin destined for distribution in the United States. Various law enforcement officials report that some passengers or crew members aboard cruise ships transport drugs--usually concealed on their person or in their luggage--to Florida.
Florida has 131 public airports--13 international--and over 700 private airports, airstrips, heliports, and seaplane bases. Millions of passengers and large amounts of cargo transit the major airports each year. Fifty-six percent of scheduled, international flight departures each week are to destinations in the Caribbean; 30 percent are to destinations in Central America, Mexico, or South America. Other destinations include Europe and Canada. Miami International Airport is the twelfth busiest airport in the United States in terms of passengers, with over 36 million passenger arrivals and departures annually, and fourth busiest in terms of cargo, with 1.8 million metric tons processed annually. Drugs, particularly cocaine, heroin, and MDMA, often are transported to Florida by couriers or intermingled with legitimate cargo on commercial flights from drug source and transshipment countries or from other states. Operation Jetway data indicate that in 2001 law enforcement officials in Florida seized almost 616.4 kilograms of illicit drugs from packages and couriers arriving on commercial airplanes, primarily from states such as California and Texas. USCS officials in Florida seized almost 3,000 kilograms of drugs from commercial and private aircraft and over 165 kilograms from packages in 2001. (Some of these seizures also were reported as part of Operation Jetway statistics.) In addition, county and local law enforcement agencies seize significant quantities of illicit drugs but do not report seizure totals as part of Operation Jetway or to USCS.

Operation Jetway
Operation Jetway is a domestic interdiction program supported by the El Paso Intelligence Center (EPIC). Drug seizures are reported to Operation Jetway by federal, state, and local law enforcement agencies across the nation at airports, train stations, bus stations, package shipment facilities, U.S. Post Offices, and airport hotels and motels.

Pilot Program in Orange County
In 2001 the Florida Legislature authorized the creation of a 3-year pilot program in Orange County to intercept illicit drugs sent via package delivery services. It designated the Orange County Sheriff's Office, which had previously created its own interdiction program, to create and supervise the pilot program. The Parcel Interdiction Team services 200 to 250 package and freight delivery locations within Orange County. From January 2001 to February 2002, the Parcel Interdiction Team seized 2 tons of marijuana, almost 2.7 kilograms of methamphetamine, 1.5 kilograms of cocaine, 500 OxyContin tablets and various quantities of hydrocodone, Xanax, and other illicit drugs, with a combined street value of over $9.2 million.

Source: Orange County Sheriff's Office.
Hundreds of small, unregulated airstrips on ranches and in fly-in communities in Florida are well within flight range of drug transshipment countries in the Caribbean. Drug transporters often use these small, mostly unmonitored airstrips to smuggle drugs into the state. Drug transporters also occasionally airdrop drugs from private aircraft to vessels at sea for further transport to Florida.
A maze of roadways including Interstates 4, 10, 75, 95, and Florida's Turnpike are used for licit and illicit purposes. Interstate 4 intersects with I-75 near Tampa, crosses Orlando and other central portions of the state, then intersects I-95 near Daytona Beach. Interstate 10 extends from the Los Angeles area east through southwestern and Gulf Coast states and through Pensacola to Jacksonville, where it connects with I-95. Interstate 75 runs from Miami through Atlanta, Knoxville, Cincinnati, and Detroit and extends to the U.S.-Canada border. Interstate 95, the principal north-south highway on the East Coast, extends from Miami north through many major East Coast cities to the U.S.-Canada border. Florida's Turnpike extends from I-75 south of Ocala to Fort Pierce on the Atlantic Coast before turning south and paralleling I-95 into Miami. Criminal groups frequently use these highways to transport drugs into and through Florida in commercial and private vehicles. Drugs usually are concealed in false compartments or among legitimate goods such as produce, furniture, or other items in commercial vehicles or concealed in baggage in trunks or false compartments built into private vehicles. USCS officials in Florida seized over 5,500 kilograms of drugs from commercial and private vehicles in 2001. Over 527 kilograms of drugs, primarily cocaine, heroin, and marijuana, were seized on Florida roadways as part of Operation Pipeline in 2001.

Operation Pipeline
Operation Pipeline is an EPIC-supported national highway interdiction program. Drug seizures are reported to Operation Pipeline by federal, state, and local law enforcement agencies nationwide operating along highways and interstates most frequently used to transport illicit drugs and drug proceeds.
Various passenger and freight train services are available in Florida, and drug transporters occasionally use those services to transport drugs into and through the state. Amtrak offers rail services from Florida to New York daily. Eleven railroads, many based at major seaports in the state, provide freight service on the state's 2,887-mile rail system and connections to an extensive network of freight lines servicing various areas of the country. Operation Jetway data indicate that in 2001 law enforcement officials in Florida seized over 28 kilograms of drugs, primarily cocaine and marijuana that were being transported on passenger trains.
Large commercial bus lines and smaller bus companies facilitate the interstate and intrastate transportation of individuals and goods. There are over 120 commercial bus terminals in Florida with five in Miami and three in Jacksonville. Operation Jetway data indicate that in 2001 law enforcement officials in Florida seized over 45 kilograms of drugs, primarily cocaine, marijuana, and heroin that were being transported on commercial buses.
Various DTOs and criminal groups distribute illicit drugs in Florida. Colombian DTOs and criminal groups are the primary wholesale distributors of powdered cocaine and South American heroin and are one of the most dominant wholesale distributors of MDMA in Florida. Mexican criminal groups dominate the wholesale distribution of Mexican black tar and brown powdered heroin and methamphetamine in Florida. Mexican criminal groups along with Jamaican criminal groups also dominate the wholesale distribution of marijuana statewide. Russian, Israeli, and western European DTOs and criminal groups are dominant wholesale MDMA distributors in Florida. Local independent Caucasian dealers are the most prominent distributors of ODDs statewide. Various criminal groups sell retail quantities of illicit drugs in the state; no particular group dominates retail distribution.
Drug-related gang activity in Florida is widespread. There are hundreds of local gangs and nationally affiliated gangs--street gangs that align themselves with gangs from Chicago, Los Angeles, and New York--in the state. Some of the nationally affiliated gangs have thousands of members and associates, many of whom are violent career criminals. Law enforcement authorities report that Bloods, Crips, Gangster Disciples, Latin Kings, and Vice Lords operate local chapters in Florida and distribute drugs. Local neighborhood gangs--with little or no affiliation to national street gangs--also sell retail quantities of drugs in Florida. According to the South Florida High Intensity Drug Trafficking Area (HIDTA), there were 109 gangs with approximately 1,256 confirmed members in Miami-Dade County in 2001. Gang members often are heavily armed, and they frequently use weapons to commit drug-related crimes, including homicide, assault, and armed robbery. (See text box.)

Gangs in Florida
Bloods and Crips

Bloods and Crips originated in Los Angeles and are two of the largest and most violent associations of criminal street gangs in the United States. The membership of both gangs is primarily African American. Both gangs are a collection of structured and unstructured gangs commonly known as sets. Gang sets are established by an individual who runs the set and recruits members to distribute drugs, primarily cocaine, marijuana, and PCP. Both Bloods and Crips distribute drugs throughout the country including Florida. Although Bloods and Crips sets are located throughout the United States, not all gangs that claim to be Bloods or Crips are affiliated with the Los Angeles-based Bloods or Crips. The gangs harbor deep hatred toward each other, and each considers the other a rival. The two gangs will, however, cooperate in criminal ventures for profit.

Gangster Disciples

Gangster Disciples is the largest of the Chicago-based street gangs, and its members are primarily African American. This gang has been in existence since the early 1960s. Its organizational hierarchy resembles that of a corporation. The gang distributes illicit drugs, primarily crack cocaine, heroin, and marijuana, in over 40 states including Florida.

Latin Kings

Latin Kings, also known as Almighty Latin King Nation, is a predominantly Hispanic street gang with two major factions: one in Chicago and one in New York City. This gang started as a street level political organization in Hispanic communities but later evolved into organized criminal enterprises that distribute drugs and commit violent crimes. Latin Kings is a highly structured gang that relies on strict, detailed charters to maintain discipline. The Chicago-based Latin Kings, affiliated with People Nation, is the foundation upon which all Latin Kings groups are based. The gang has expanded to 30 states including Florida.

Vice Lords

Vice Lords, one of the largest and most violent associations of street gangs in the United States, is based in Chicago. Its membership is predominantly African American. Vice Lords is split among major factions such as Conservative Vice Lords, Traveling Vice Lords, and Four Corner Hustlers. Each faction has a distinct membership and leadership. Vice Lords members distribute drugs, principally crack cocaine, marijuana, methamphetamine, as well as some heroin, in 28 states including Florida.
Federal seizure statistics indicate that marijuana, cocaine, heroin and, to a much lesser extent, methamphetamine frequently are seized in Florida. According to Federal-wide Drug Seizure System (FDSS) data from 1997 through 2001, federal law enforcement officials in Florida seized a total of 134,502 kilograms of marijuana, 72,879 kilograms of cocaine, 2,071 kilograms of heroin, and 339 kilograms of methamphetamine. (See Table 1.)
Table 1. Federal Drug Seizures in Kilograms, Florida, 1997-2001

| | Cocaine | Heroin | Methamphetamine | Marijuana |
| --- | --- | --- | --- | --- |
| 1997 | 24,375.6 | 478.0 | 9.5 | 33,439.4 |
| 1998 | 18,040.8 | 331.3 | 27.0 | 26,839.6 |
| 1999 | 12,447.5 | 232.8 | 157.5 | 24,690.9 |
| 2000 | 10,657.5 | 395.0 | 59.4 | 19,347.6 |
| 2001 | 7,357.2 | 633.8 | 85.2 | 30,184.2 |
| Total | 72,878.6 | 2,070.9 | 338.6 | 134,501.7 |
Source: FDSS.
The percentage of drug-related federal sentences in Florida is higher than the percentage nationwide. According to U.S. Sentencing Commission (USSC) data, 48.9 percent of federal sentences in Florida in FY2001 were drug-related, compared with 41.2 percent nationally. Nearly 60 percent (59.2%) of the drug-related federal sentences in Florida involved powdered or crack cocaine, compared with 42.5 percent nationally. These data indicated some regional variations. For example, sentences for powdered cocaine and heroin are significantly higher in the Southern District of Florida than in the rest of the state.
Inmates in Florida state prisons are incarcerated more often for drug offenses than for any other single offense. According to the Florida Department of Corrections, as of June 30, 2001, a high percentage of inmates in Florida were incarcerated on drug-related charges (17.9%), followed by burglary (16.5%), murder/manslaughter (14.5%), robbery (13.9%), and violent personal offenses such as aggravated assault (12.0%). Many prisoners incarcerated on nondrug-related charges also abused drugs or committed offenses to support their drug habit.
Table 2. Percentage of Adult Male Arrestees Testing Positive for Drug Abuse by Drug Type, Fort Lauderdale and Miami, 2000

| | Fort Lauderdale | Miami |
| --- | --- | --- |
| Any Illicit Drug | 61.8 | 62.8 |
| Cocaine | 30.9 | 43.5 |
| Heroin | 2.1 | 4.0 |
| Methamphetamine | 0.0 | 0.0 |
| Marijuana | 43.3 | 38.5 |
Source: ADAM.
In 2000 illicit drugs frequently were detected among adult male arrestees in Miami and Fort Lauderdale, the two cities in Florida that participate in the Arrestee Drug Abuse Monitoring (ADAM) Program. According to 2000 ADAM data, 62.8 percent of adult male arrestees in Miami and 61.8 percent in Fort Lauderdale tested positive for abusing at least one illicit substance.

ADAM Program
The ADAM program--administered by the National Institute of Justice--tracks trends in the prevalence and types of drug use among booked arrestees in selected urban areas of the United States. The ADAM Program involves two components--a questionnaire administered by a trained interviewer to an arrestee in a booking facility and a urine sample collected from the arrestee within 48 hours of arrest. In 2000 data were collected for 39 metropolitan areas across the United States. ADAM data for Fort Lauderdale were collected from randomly selected arrestees at a facility in Broward County, and Miami data were collected from randomly selected arrestees at a facility in Miami-Dade County.
Drug-related deaths frequently occur in Florida. According to the 2001 Report of Drugs Identified in Deceased Persons by Florida Medical Examiners, there were approximately 169,000 deaths in Florida in 2001. Florida medical examiners performed autopsies or toxicology tests on 15,000 of these decedents, and 5,276 tested positive for drugs and/or alcohol. Of those, 1,304 individuals died as a direct result of drug and/or alcohol abuse, many from multiple drugs. According to Drug Abuse Warning Network (DAWN) mortality data, drug-related deaths in Miami-Dade County increased from 1996 through 2000. Drugs were a factor in 148 deaths in Miami-Dade County in 1996 and 216 deaths in 2000, the most recent year for which DAWN data are available. Of the 216 deaths reported in Miami-Dade County in 2000, 112 were drug-induced (overdoses).
Florida has a significant number of drug-related treatment admissions. According to the Treatment Episode Data Set (TEDS), substance abuse-related treatment admissions to publicly funded facilities in Florida increased from 52,997 in 1997 to 67,734 in 2001. (See Table 3.) The number of drug- and alcohol-related treatment admissions per 100,000 population in Florida (625) was higher than the number per 100,000 nationwide (607) in 1999, the most recent year for which these data are available.
Table 3. Substance Abuse-Related Treatment Admissions to Publicly Funded Facilities, Florida, 1997-2001

| | Total* | Cocaine (Smoked) | Cocaine (Other Route) | Heroin | Methamphetamine | Marijuana |
| --- | --- | --- | --- | --- | --- | --- |
| 1997 | 52,997 | 10,588 | 3,090 | 1,669 | 379 | 12,146 |
| 1998 | 63,652 | 12,991 | 3,846 | 2,444 | 498 | 3,842 |
| 1999 | 84,524 | 15,374 | 4,446 | 4,041 | 552 | 17,057 |
| 2000 | 80,249 | 13,414 | 4,154 | 4,201 | 420 | 15,842 |
| 2001 | 67,734 | 10,164 | 3,211 | 3,723 | 467 | 14,356 |
Source: TEDS.
*Includes admissions for alcohol abuse.
Survey data indicate that illicit drugs frequently are abused in Florida. According to the National Household Survey on Drug Abuse (NHSDA), Florida residents abuse drugs at a rate statistically comparable to the rate nationwide. In 1999 and 2000, 5.9 percent of those surveyed in Florida reported having abused an illicit drug at least once in the month prior to the survey, compared with 6.3 percent nationwide. The 2001 Youth Risk Behavior Survey (YRBS) report indicates that 40.2 percent of high school students in Florida reported having abused marijuana at least once in their lifetime and that 23.1 percent reported current use (use in the last 30 days) of the drug. The survey also indicates that 8.3 percent of the students reported lifetime cocaine use, 4.0 percent reported current cocaine use, 3.7 percent reported lifetime heroin use, and 7.6 reported lifetime methamphetamine use.
The financial impact on Florida's government from substance abuse-related costs and services is significant. According to the National Center on Addiction and Substance Abuse at Columbia University, in 1998, the most recent year for which these data are available, Florida spent over $3.1 billion on substance abuse-related costs and services. This entailed spending across program areas including justice, education, health, child-family assistance, mental health-developmental disabilities, public safety, and the state workforce. This figure amounted to almost 10 percent of the total expenditures for the state. When the cost of lost productivity and nongovernmental expenses by private social services are factored in, estimates for total substance abuse-related costs are even higher.
Money laundering poses a serious threat to Florida, particularly in the greater Miami area. Law enforcement authorities and money laundering experts report that Florida faces one of the highest money laundering threats in the country. The state's transportation infrastructure, international banks, ethnic diversity, and proximity to drug source and transit countries as well as to offshore banking centers make Florida an ideal location for money laundering.
Colombian, various Caribbean, and Mexican DTOs and criminal groups, particularly in southern Florida, are the most dominant drug money launderers in the state. However, various other DTOs, criminal groups, and independent money launderers conduct money laundering operations in the state. Money launderers frequently structure bank deposits and transmit drug proceeds by wire in an attempt to conceal illegal drug activities. In southern Florida 7,244 Suspicious Activity Reports (SARs) were filed by financial institutions in FY2001, the third highest number of filings in the United States. From 1997 through 2001, 59 percent of the money laundering violations cited in SARs involved structuring of transactions to avoid currency reporting requirements. Currency also is smuggled in bulk, often by couriers traveling aboard commercial airlines and by maritime conveyances. Operation Jetway data indicate that almost $1.6 million dollars were seized at Florida airports in 2001. USCS officials in Florida seized $6,041,286 in bulk currency from outbound shipments in FY2001. USCS officials also report that the Colombian Black Market Peso Exchange (BMPE), an unofficial currency exchange system, is one of the primary methods used to launder money in southern Florida.

Black Market Peso Exchange System
The BMPE is a money laundering system through which Colombian DTOs and criminal groups launder billions of dollars annually. Black market currency brokers, for a fee, match the needs of Colombian DTOs for local currency with the needs of merchants for American dollars. Colombian DTOs use pesos to pay expenses and finance drug operations. Merchants use dollars to purchase goods inside the United States and elsewhere. The goods often are falsely invoiced or smuggled into Colombia to avoid taxes and tariffs. Merchants often resort to the BMPE to obtain dollars because it is generally more efficient and less expensive than purchasing currency through the official banking system.
---
To Top To Contents To Next Page