U.S. Department of Justice
Office of the Attorney General
U.S. DEPARTMENT OF JUSTICE
Fiscal Year 1999
Annual Accountability Report
March 31, 2000
---
This report is on the DOJ web site at www.usdoj.gov.
FOREWORD
This Annual Accountability Report highlights the diverse activities and major accomplishments of the Department of Justice (the Department) in fiscal year 1999, reflecting the continued dedication and expertise of our employees and their commitment to the principles of justice and fair treatment for all Americans. This is the second year that the Department has consolidated statutory reporting requirements in an accountability report. This year's report also includes our first statement of performance in compliance with the Government Performance and Results Act.
In closing the twentieth century, the Department of Justice proudly reports that crime has continued its steady decline for the seventh straight year in a row. Preventive and responsive law enforcement programs; investments in crime-fighting technologies; and greater cross-boundary cooperation at the federal, state, and local levels have made America a safer and more secure society.
We helped create safer streets and communities in FY 1999. The Office of Community Oriented Policing Services brought the ranks of funded community police officers to 103,720, exceeding the President's goal to fund 100,000 cops by the year 2000. A new, automated FBI fingerprint system was put in place to allow law enforcement agencies to transmit fingerprint information electronically, replacing a manual card system and drastically reducing the response time for criminal cases. Tribal communities received 189 grants to improve law enforcement infrastructure and community policing in Indian Country.
We also renewed our commitment to protect the country's borders and national security. We established a Five-Year Counterterrorism and Technology Crime Plan, and the INS continued to strengthen border enforcement while also improving its naturalization process. Strengthened interagency and international cooperation in the war against drugs brought about several aggressive high-impact campaigns targeting illegal supply networks. At the same time, the Department supported more community-based approaches to reducing demand and use on America's streets.
Also, this year, I am pleased to provide reasonable assurance that our management control and financial systems, taken as a whole, met the objectives of Sections 2 and 4 of the Federal Managers' Financial Integrity Act. While we still have a number of material challenges to resolve, the Department is steadily improving in this area.
As we begin the twenty-first century, we expect our history of achievement to provide a strong basis for the Department to effectively deal with the challenges ahead.
Respectfully submitted,
Janet Reno
---
Table of Contents
Part I: Program Performance
Part II: Financial Performance

Chapter VIII – Audit Report
Consolidated Audited Financial Statement

Commentary and Summary
Management's Overview
Independent Accountants' Reports

Report of Independent Accountants
Report of Independent Accountants on Internal Controls
Report of Independent Accountants on Compliance with Laws and Regulations

Annual Financial Statement

Consolidated Balance Sheet
Consolidated Statement of Net Cost
Consolidated Statement of Changes In Net Position
Combined Statement of Budgetary Resources
Combined Statement of Financing
Combined Statement of Custodial Activity
Notes to the Principal Financial Statements

Supplemental Financial and Management's Information

Consolidated Stewardship Information
Consolidated Deferred Maintenance
Consolidated Intra-governmental Assets
Consolidated Intra-governmental Liabilities
Consolidated Intra-governmental Earned Revenue and Related Cost
Consolidating Balance Sheet
Consolidating Statement of Net Cost
Consolidating Statement of Changes in Net Position
Combining Statement of Budgetary Resources
Combining Statement of Financing

Appendix

Audit Division Analysis and Summary of Actions Necessary to Close the Report

Figures
Introduction
Overview of the Department of Justice
This report provides the President, the Congress, and the American people an accounting of the programmatic and financial performance of the Department of Justice (the Department) during fiscal year (FY) 1999.1 It gives a succinct report on what we have achieved and where we need to improve. It is submitted as a consolidated response to various statutory reporting requirements, including those of the Government Performance and Results Act (GPRA) of 1993 (P.L.103-62), the Federal Managers' Financial Integrity Act (FMFIA) of 1982 (P.L. 97-255), the Government Management Reform Act of 1994 (P.L.103-356), and the Anticounterfeiting Consumer Protection Act.
Mission: To enforce the law and defend the interests of the United States according to the law, to provide Federal leadership in preventing and controlling crime, to seek just punishment for those guilty of unlawful behavior, to administer and enforce the Nation's immigration laws fairly and effectively, and to ensure fair and impartial administration of justice for all Americans.
To carry out the Department's mission, the Attorney General directs the activities of more than 123,000 attorneys, investigators, Border Patrol agents, deputy marshals, correctional officers, and other employees. Although headquartered in Washington, DC, most of the Department's work takes place outside Washington. As a result, the majority of our employees work in any one of more than 2,700 Justice installations around the country and in one of more than 120 foreign cities.
The Department's organizational chart, which follows, shows the component organizations that carry out most of the Department's day-to-day work. The major components ("bureaus") include the U.S. Attorneys (USAs), the Federal Bureau of Investigation (FBI), the Drug Enforcement Administration (DEA), the Immigration and Naturalization Service (INS), the United States Marshals Service (USMS), the Federal Bureau of Prisons (BOP), and the Office of Justice Programs (OJP). Among the offices, boards, and divisions, there are the legal divisions (Antitrust, Civil, Civil Rights, Criminal, Environment and Natural Resources, and Tax), the Community Oriented Policing Services (COPS) Office, and the Justice Management Division. Appendix D contains individual mission statements for the components.
For FY 1999, the Department received an appropriated and fee-funded budget totaling approximately $21 billion (P.L. 105-277, 106-31, 106-51), a 4.9-percent increase over the FY 1998 budget. Most of this increase went toward funding additional immigration and detention and incarceration initiatives.
Part I of this report summarizes 1999 program results. In accordance with GPRA, it reports the actual levels of performance achieved compared to specific targets identified in our 1999 Summary Performance Plan.2 Where appropriate, this report also provides other descriptive information in order to give a richer and more complete picture of the activities and results achieved during the year. In compliance with FMFIA, it identifies major management challenges and describes our progress toward their resolution.
Part I is organized according to the seven Core Functions set forth in the Department's Strategic Plan.3 The Strategic Plan provides the overarching framework for the Department's performance planning and reporting activities. Within each Core Function, the report is further subdivided according to our long-term Strategic Goals and specific 1999 Performance Goals. Actual results for 1999, as well as for 1997 and 1998, are provided in tabular form, with data sources included. (More detailed data source and data reliability information is provided in Appendix E.) Where we did not meet planned levels of performance, an explanation is provided. The first part of the document also includes a discussion of summary findings of FY 1999 program evaluations.
This is the first year of performance reporting under GPRA. Preparing the report has helped focus our attention on improvements needed in the scope, utility, and clarity of our goals and indicators in a number of areas. Some of these improvements have already been incorporated in our Summary Performance Plan for FY 2001; others will be implemented over time.
The task of developing measurable goals and valid and useful indicators is a challenging one. In the law enforcement arena, it is complicated by the inherent difficulty of measuring the preventive and deterrent effects of our work. It is also complicated by the risks associated with setting targets that may unwittingly and adversely skew performance. Our "bottom line" is justice. It is not achieving particular numbers of arrests, indictments, convictions, or asset seizures. Therefore, in accordance with departmental policy, no targets were set for these activities in our 1999 or subsequent performance plans; however, actual 1999 figures are provided in this report4.
Part II of the report describes the Department's financial performance during 1999. It includes the Department's 1999 consolidated financial statement, the report of the independent auditors, and the summary and commentary prepared by the Department's Inspector General.
Five appendices include (A) a glossary of abbreviations and acronyms used in this report, (B) a summary of criminal caseload statistical reports on intellectual property crimes, (C) a list of Justice component web sites, (D) the mission statements of individual Justice components, and (E) data source and data validation information to support performance indicators.
This report is on the Department's web site at www.usdoj.gov.
Organizational Chart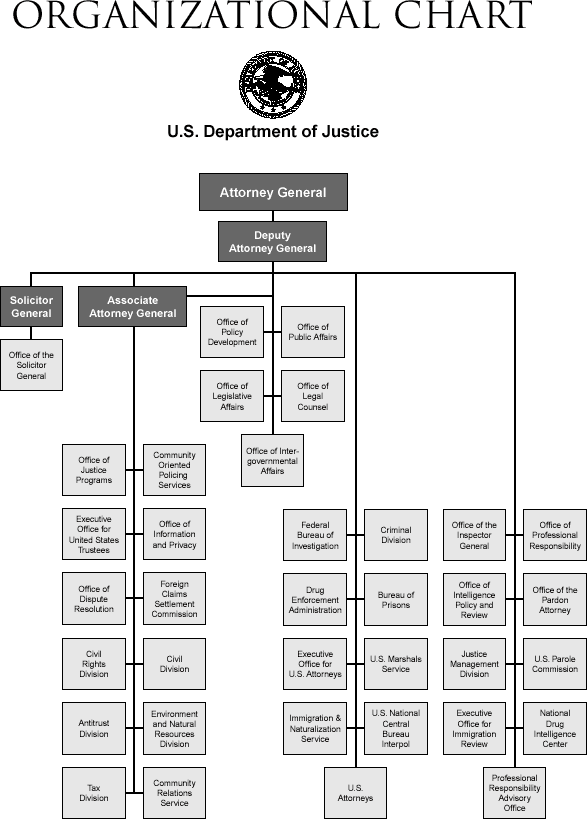 d
Results in Brief
In 1999, serious crime continued its downward trend, due in part to the collaborative efforts of the Department of Justice and other Federal, state, and local law enforcement agencies (see Figure 1).


Figure 1
Seven Year Drop in Crime

d



In one of the most complex and successful multi-agency and multijurisdictional investigations ever, the Department substantially diminished the ability of the Amado Carillo Fuentes organization to move cocaine and other drugs into and around the United States. Termed Operation "Impunity," the investigation netted the arrests of three cell heads operating in the United States and 90 of their subordinates. It disabled all facets of the Fuentes organization, headquartered in Juarez, Mexico, including its drug and money transportation systems and the local U.S. distribution groups (see Figure 2).


A joint U.S.-Colombian investigation, Operation "Millennium," disrupted a consortium of trafficking networks responsible for shipping vast quantities of cocaine from Colombia through Mexico and into the United States. Among those arrested by the Colombian government was drug kingpin Alejandro Bernal-Madrigal, believed by law enforcement officials to be one of the most significant international drug traffickers and money launderers presently operating (see Figure 2).


Figure 2
Major Drug Trafficking Organizations Disrupted

d



The FBI continued its successful assault on organized crime, reducing membership in La Cosa Nostra by about 18 percent and dismantling four Asian and three Russian criminal enterprises.


In 1999, USAs continued to prosecute the most violent criminal offenders under the Anti-Violent Crime Initiative and through the enhanced criminal provisions of the Violent Crime Control Act of 1994. They filed a total of 7,392 violent criminal cases against 9,175 offenders during 1999, a 7-percent increase over the number of cases filed in 1998.


The FBI launched the Innocent Images National Initiative to address on-line child pornography and child sexual exploitation, the most significant and fastest growing crime problem involving children. The FBI also found and safely returned home 90 children who had been abducted.


FBI Safe Streets Task Forces (SSTFs) and DEA Mobile Enforcement Teams (METs) continued to help local communities deal with drug-related violence. In 1999, there were 170 SSTFs and 53 new MET deployments.



The OCDETF program continued its focus on targeting drug trafficking organizations, including foreign-based organizations or those with connections to them. These organizations are responsible for the importation of most of the illegal narcotics sold in the United States. In FY 1999, based on data submitted for the first 6 months of the fiscal year, 30 percent of OCDETF investigations targeted Mexican drug trafficking organizations or organizations connected to them; 11.2 percent targeted Colombian drug trafficking or related organizations; and 8.9 percent targeted Caribbean-based organizations or related groups.


The FBI's National Instant Criminal Background Check System denied firearm purchases to more than 60,000 people, who were disqualified for having criminal histories, dishonorable discharges, or restraining orders (see Figure 3). Since the Brady Law went into effect in 1994, an estimated 470,000 persons have been denied firearms, based on checks conducted at the Federal or state level.


Figure 3
Brady Law Background Check Results

d



OJP awarded about $4.3 billion to jurisdictions in all 50 states and U.S. territories. Funds supported state and local programs; the Crime Victims Fund; juvenile justice programs; research, evaluation, and demonstration activities; Weed and Seed programs; criminal justice statistical activity; and the Public Safety Officers Benefits program (see Figure 4).


Figure 4
FY 1999 Office of Justice Programs Awards

d



The Department began the process of establishing a new National Domestic Preparedness Office in the FBI to coordinate the Nation's planning and preparation for responding to terrorist attacks, including the possible use of weapons of mass destruction.


The FBI successfully transitioned from its old manual fingerprint card system to a new Integrated Automated Fingerprint Identification System. The new system allows law enforcement agencies to transmit fingerprint information electronically and drastically reduces average response time for criminal cases—from days to 2 hours. The FBI also successfully implemented its new National Criminal Identification Center.


A new Safe Schools/Healthy Students Initiative was launched—a joint undertaking of the Departments of Justice, Education, and Health and Human Services—to provide funding to help communities prevent school violence and promote healthy child development. The Departments of Justice and Education also joined forces with the Department of Energy to produce a guidebook for local school and law enforcement officials on The Appropriate and Effective Use of Security Technologies in U.S. Schools.


In one of the most significant antitrust cases ever, the Department's Antitrust Division obtained after-trial findings from the court supporting our claims against Microsoft Corporation.



The Department met the President's goal of funding an additional 100,000 community police officers to help protect America's communities (see Figure 5).


Figure 5
Community Oriented Policing Services

d



The Department won the largest environmental case ever under the Clean Air Act, resulting in a record fine of $83.4 million and a settlement that will prevent 75 million tons of nitrous oxide (NOx) air pollution over the next 27 years and reduce by one-third the total NOx emissions from diesel engines by 2003.


The Department filed a civil lawsuit against the largest cigarette companies in an effort to recover billions of dollars spent by the Federal Government each year on smoking-related health care costs.


The Antitrust Division, through its international cartel enforcement program, brought in historic, record criminal fines totaling more than $1.1 billion, including a $500 million fine against one of the largest vitamin manufacturers in the world.


INS cut the average processing time from 28 months to 12 months and completed more than 1.2 million applications for naturalization, including 872,000 persons sworn in as new naturalized U.S. citizens.


INS' Operation "Seek and Keep," a year-long multiagency investigation, resulted in the dismantling of the most complex alien smuggling ring ever encountered by Federal authorities. This illegal, dangerous, and exploitive activity grossed an estimated $220 million over 3 years. Eighteen alien smugglers have accepted guilty pleas and are now out of business.


The INS deported 62,838 criminal aliens. Since 1995, the number of criminal aliens deported each year has increased by an average of 19 percent (see Figure 6).


Figure 6
Criminal Aliens Removed from the United States

d



The Department successfully surmounted its biggest computer issue ever—Y2K preparation—and experienced no incidents related to the New Millennium.


The Department made significant progress in improving its financial management. In 1999, independent auditors gave unqualified opinions on 9 out of 10 of our reporting entities. INS received a qualified opinion.


In 1999, the Department's law enforcement efforts resulted in more than $610 million being forfeited from criminals and criminal activity, undermining the economic motivation and the financial base of criminal organizations and activities. This money was deposited into the Asset Forfeiture Fund, and the Department distributed some of those assets to state and local law enforcement agencies participating in the underlying criminal investigations. In this way, criminals, not taxpayers, help foot the bill for law enforcement.



The Department continued to experience increases in numbers of persons detained, with an average daily population of 32,119 in USMS custody—an 11.9-percent increase over FY1998 —and 16,563 in INS custody—a 12-percent increase over FY 1998 (see Figure 7).


Figure 7
Average Daily Detention Population in Custody

d



The Federal prison population also continued to grow. At the end of 1999, there were 133,047 persons (not including 642 INS prisoners in Eloy) in BOP custody, an increase of 10,731 since 1997. The overcrowding rate systemwide rose from 22 percent in FY 1997 to 31 percent in FY 1999. In medium security institutions, it climbed from 37 percent in FY 1997 to 51 percent in FY 1999. While the high-security inmate population continued to climb, the overcrowding rate dropped slightly—from 52 percent in 1997 to 50 percent in FY 1999—as new penitentiaries came into use (see Figures 8 and 9)


Figure 8
Bureau of Prisons Inmate Population*

d

d
---
Continue to Next Section
Return to Contents