Victims of Crime
Introduction
Violent and property crime remain at the lowest rates in 30 years, according to the U.S. Department of Justice, Bureau of Justice Statistics latest 2003 National Crime Victimization Survey. While there is a positive trend in the reduction of crime across the nation, there still remains a need for social services and programs to assist those whose lives have been affected and impacted by crime. Through its various bureaus and offices, the Department's Office of Justice Programs aims to prevent and control crime, improve the criminal and juvenile justice systems, and assist crime victims.

Programs
Helping Outreach Programs Expand (HOPE)
Helping Outreach Programs Expand (HOPE) provides funding to faith-based and other community-based, grassroots crime victim services organizations to support program development efforts such as training, volunteer recruitment and retention, and printing and dissemination of information materials. HOPE aims to foster the development of grassroots crime victim service providers to expand both public visibility and outreach to victims, thereby increasing the number of available service providers.
Transitional Housing Assistance Grants Program
The Transitional Housing Assistance Grant Program supports organizations that provide assistance to individuals who are in need of transitional housing or housing assistance, as a result of fleeing a situation of domestic violence, and for whom emergency shelter services or other crisis intervention services are unavailable or insufficient. Grants may be used for programs that provide short-term housing assistance, including rental or utilities payment assistance and assistance with related expenses, and support services designed to enable individuals to locate and secure permanent housing, as well as integrate into a community. Grantees provide a broad range of individualized services such as transportation, counseling, childcare services, case management, employment counseling, and other assistance.
Victims of Crime Act Formula Grant Program
Victims of Crime Act (VOCA) formula grants are intended to support victim assistance services for victims and survivors of domestic violence, sexual assault, child abuse, drunk driving, homicide, and other crimes. VOCA funds support criminal justice advocacy, emergency legal assistance, information and referral services, personal advocacy, and assistance with filing crime victims compensation claims.
Weed and Seed
Weed and Seed is foremost a strategy--rather than a grant program-- which aims to prevent, control, and reduce violent crime, drug abuse, and gang activity in targeted high-crime neighborhoods across the country. Weed and Seed sites range in size from several neighborhood blocks to 15 square miles, and there are over 350 sites nationwide. The strategy involves a two-pronged approach: (1) Law enforcement agencies and prosecutors cooperate in "weeding out" criminals who participate in violent crime and drug abuse, attempting to prevent their return to the targeted area; (2) and "Seeding" brings human services to the area, encompassing prevention, intervention, treatment, and neighborhood revitalization. A community-orientated policing component bridges weeding and seeding strategies. Officers obtain helpful information from area residents for weeding efforts while they aid residents in obtaining information about community revitalization and seeding resources. The Community Capacity Development Office (CCDO) oversees the Weed and Seed initiative.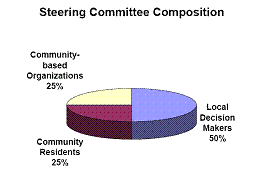 Contact Information
Department of Justice, Office of Justice Programs
Community Capacity Development Office
810 Seventh Street, NW, Sixth Floor
Washington , DC 20531
Resources

The Office of Justice Programs, Office for Victims of Crime administers programs that benefit victims of crime. OVC provides substantial funding to state victim assistance and compensation programs-the lifeline services that help victims to heal. The agency supports trainings designed to educate criminal justice and allied professionals regarding the rights and needs of crime victims. OVC also sponsors an annual event in April to commemorate National Crime Victims Rights Week (NCVRW).
Help for Victims
The following topics offer links to information resources that may be of interest to victims of crime. For additional information on available services in your area, visit OVC's Directory of Crime Victim Services.
NCJRS is a federally funded resource offering justice and substance abuse information to support research, policy, and program development worldwide. By registering with NCJRS, you can remain informed about new publications, grants and funding opportunities, and other news and announcements.