National Drug Intelligence Center
Minnesota Drug Threat Assessment
August 2001
---
Cocaine
Cocaine is the principal drug threat in Minnesota. Demand remains high and supplies are plentiful. Mexican DTOs are the primary transporters and distributors of powdered cocaine while African American street gangs control crack cocaine distribution.
Cocaine remains the greatest drug threat in Minnesota; its use has steadily increased the last 4 years. Cocaine was a factor in more ED episodes than any other drug in 1999. During that year, there were 814 DAWN cocaine mentions in Minneapolis compared with 627 marijuana, 207 heroin, and 112 methamphetamine mentions. ED mentions increased only 5 percent in 1999 and 1998 after increasing 9 percent in 1997 and 45 percent in 1996. (See Chart 2.) According to the Hennepin and Ramsey County medical examiners, cocaine-related deaths increased in 1999 after 2 years of decline: in 1999, there were 53 cocaine-related deaths compared with 44 in 1998. Despite the increase, the number remains far below the 74 deaths recorded in 1996.
Chart 2. Cocaine Emergency Department Mentions, Minneapolis, 1992-1999
Source: Substance Abuse and Mental Health Services Administration, Drug Abuse Warning Network, Year-End Emergency Department Data, 1999.
Juvenile cocaine abuse has grown rapidly over the last 4 years. DAWN statistics show that ED cocaine mentions per 100,000 for the 12 to 17 age group nearly doubled from 1995 to 1999. Minneapolis surpassed the national rate for that age group of 14.0 per 100,000 with 15.4 per 100,000 mentions in 1999. Between 1995 and 1998, the percentage of twelfth graders who used cocaine during the past 12 months increased from 2.9 percent to 5.7 percent. The increase among ninth graders was slightly lower, with 5.5 percent admitting use in 1998 compared with 3.1 percent in 1995.
Cocaine treatment admissions also indicate a steady increase in abuse among Minnesotans. Admissions increased 19 percent between 1993 and 1998, but as a percentage of total drug admissions, have hovered near 14 percent for several years. Minnesota's cocaine treatment admissions per 100,000 increased from 107 in 1993 to 127 in 1998, exceeding the national average of 109. (See Chart 3.) When compared with other states and the District of Columbia, Minnesota's ranking changed from twenty-third to sixteenth. More than two-thirds of people entering treatment in 1998 were male, and 56.3 percent were African American. Slightly less than half were 35 or older. Approximately 87 percent were over the age of 25 and typically crack smokers. According to 1999 statistics from the Arrestee Drug Abuse Monitoring Program (ADAM), 35.8 percent of the female arrestees tested for drugs were positive for cocaine, the highest of any drug. Among male arrestees, 29.3 percent of those tested were positive for cocaine, the second highest of any drug.
Chart 3. Cocaine Treatment Admissions Minnesota and United States, 1993-1998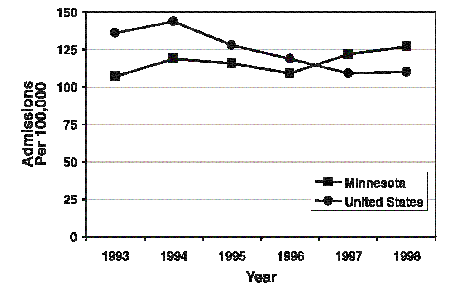 d-link
Source: Substance Abuse and Mental Health Services Administration, Treatment Episode Data Set 1993-1998, National Admissions to Substance Abuse Treatment Services.
Cocaine, in both powdered and crack forms, continues to be widely available throughout Minnesota. In 2000, purity levels were 80 to 96 percent at the kilogram level, 57 to 80 percent at the ounce level, and 50 to 80 percent at the gram level. In 1998, drug task forces seized almost 62 kilograms of cocaine, an amount basically unchanged from 1997. State drug task force arrests for powdered cocaine were unchanged from 1998 to 1999 after increasing almost 40 percent the previous year. Crack cocaine arrests in 1999 were the highest of any year in the 1990s. Arrests for crack cocaine also increased from 11 percent of task force cocaine arrests in 1991 to nearly 34 percent in 1999. Cocaine submissions to the Minnesota Bureau of Criminal Apprehension's Forensic Science Laboratory increased from 9 percent of the caseload in 1995 to 20 percent in 1999.
Powdered cocaine prices in Minnesota have decreased slightly from 1993 to 2000, from $1,200 per ounce to $800-$1,200 and from $24,000-$32,000 per kilogram to $20,000-$26,000. Midlevel and wholesale prices for crack cocaine are similar to those for powdered cocaine.
Cocaine is the drug of choice in the Minneapolis/St. Paul area. Crack is available in Minneapolis for $20 per rock. Combined arrests for powdered and crack cocaine accounted for 72 percent of all drug arrests by the Hennepin County/Minneapolis Narcotics Task Force in 1997 and 1998. Hennepin and Ramsey Counties accounted for 76 percent of all sentences for cocaine-related offenses in Minnesota in 1998. Nearly 60 percent of drug arrests by the St. Paul Police Department in 1998 were cocaine-related.
The Bloomington Police Department reports that crack cocaine is the most commonly encountered drug. Crack cocaine costs $50 per rock and powdered cocaine $25,000 per kilogram, unchanged from the previous year. Cocaine seizures, arrests, and prices were the same in 1999 as in the previous year. The Bloomington Police Department seized 15 pounds of crack and 10 pounds of powdered cocaine and made 75 crack and 50 powdered cocaine-related arrests.
Street gang migration continues to influence cocaine availability. More gangs are moving to smaller communities because of law enforcement pressure in urban areas and a less competitive, more lucrative drug market in suburban and rural areas. For example, a rock of crack cocaine that sells for $10 in Detroit and $20 in Minneapolis brings $75 to $100 in St. Cloud. The Minneapolis Chief of Police reports increasing evidence of gang migration from urban to suburban and rural areas. The Duluth Police Department reports that gangs migrating to the area from Chicago, Milwaukee, and Minneapolis/St. Paul and selling crack cocaine pose its greatest law enforcement challenge.
Law enforcement sources continue to report gang involvement in the transportation and distribution of cocaine and related violent crime. Of the homicides committed statewide between May 1997 and March 1998, 22 percent of the victims and 33 percent of the suspects and arrestees were gang members. In the Minneapolis/St. Paul area the rise in violent crime is attributable to street gangs' defense of their turf. The St. Paul Police Department estimates that 50 percent of crime in the city can be attributed to gang-related drug sales, assaults, drive-by shootings, burglaries, and criminal damage to property.
A significant percentage of crack cocaine distributed throughout Minnesota is converted within the state. Gangs convert powdered cocaine to crack cocaine within the state to avoid severe criminal penalties for transporting crack cocaine. St. Paul law enforcement officials estimate that 60 percent of the crack cocaine distributed in the area is converted locally by street gangs and independent dealers. Law enforcement officials in Duluth and Bloomington estimate that 25 percent of the crack cocaine seized was converted locally.
Mexican DTOs are the primary transporters of powdered cocaine into Minnesota. Nearly all the Organized Crime Drug Enforcement Task Force (OCDETF) cases in Minnesota in 1999 involved Mexican DTOs transporting drugs into Minnesota. The Ramsey County Sheriff's Department reports that Mexican DTOs are the dominant transporters of powdered cocaine into Ramsey County.
Street gangs, outlaw motorcycle gangs (OMGs), independent dealers, and Asian criminal groups also transport cocaine into Minnesota. For example, the St. Paul Police Department reports that local street gangs and OMGs also transport cocaine. The Bloomington Police Department reports that primary transporters in Bloomington are independent dealers and Asian criminal groups.
Cocaine is transported to Minnesota from the Southwest Border, Los Angeles, Chicago, and Milwaukee, primarily in automobiles with hidden compartments. Transporters use Interstate 35 to move cocaine from the Southwest Border, and Interstate 80 to transport it from California. Operation Pipeline data from the El Paso Intelligence Center (EPIC) indicated that shipments totaling over 28 kilograms of powdered cocaine destined for Minnesota were seized in seven separate incidents in 1999. In six of the cases, the cocaine shipment originated in California or at the Southwest Border. In April 2000, the California Highway Patrol seized 7 kilograms of cocaine near San Bernardino, California, from a vehicle en route to Minneapolis. Interstates 90 and 94 are used to transport cocaine from Chicago and Milwaukee. Police officers in Minnesota seized more than a kilogram of cocaine from a vehicle on Interstate 90 arriving from Wisconsin in April 2000. Interstates 35 and 94 are the most common routes used to transport cocaine into the Bloomington and St. Paul areas. Cocaine is transported to Bloomington from Chicago, Los Angeles, and Phoenix.
Operation Pipeline
Operation Pipeline, created in 1984, is the name given to a nationwide highway interdiction program that focuses on private vehicles. It was designed to coordinate training, real-time communication, and analytic support between federal, state, and local law enforcement agencies.
Other means of transporting cocaine into the state include commercial aircraft and parcel delivery services. The USCS seized more than 2 kilograms of cocaine at the Minneapolis/St. Paul airport in FY1999. In October 2000, law enforcement officials at the Minneapolis/St. Paul airport seized 1 kilogram of cocaine from the luggage of a passenger arriving from Santa Ana, California. In February 2000, law enforcement officials in Bloomington intercepted a parcel containing 1.5 kilograms of cocaine sent from the Los Angeles area. Also in February 2000, postal inspectors in Minneapolis seized a package containing 629 grams of powdered cocaine mailed from San Francisco.
Though uncommon, seizures from passenger trains have occurred. In December 1999, law enforcement authorities in Dallas, Texas, seized 4.7 kilograms of cocaine from the luggage of a passenger traveling by rail from Dallas to Minneapolis.
African American street gangs are the primary transporters of the crack cocaine that is brought into the state. In 1999, the U.S. Attorney's Office for the District of Minnesota indicted members of the Broadway Five Deuce Crips and the 132 Street Shotgun Crips for operating extensive crack cocaine networks stretching from Los Angeles to Minneapolis/St. Paul. The crack cocaine was transported to Minnesota by courier via commercial airline or by parcel delivery services.
Mexican criminal groups are the dominant wholesale distributors of powdered cocaine in Minnesota, according to the Drug Enforcement Administration (DEA) and the Minneapolis Police Department. In May 2000, members of one such group were convicted for distributing 10 to 15 pounds of cocaine per month in Minnesota from a network based in California. In October 2000, members of another Mexican criminal group also based in California were sentenced for distributing more than 50 kilograms of cocaine in the Minneapolis/St. Paul area.
Street gangs are the primary crack cocaine distributors in Minnesota. Local African American street gangs control crack cocaine distribution in the Minneapolis area. Eleven members of the Chicago-based Mickey Cobras and Black P Stones gangs were indicted for running a crack cocaine enterprise in Minnesota in April 2000. The gangs had formed a distribution alliance in Minnesota in 1995, and were transporting and distributing as much as 1 pound of crack cocaine 3 to 4 times per month in the St. Cloud and Moorhead areas. Local and statewide gangs distribute both powdered and crack cocaine in Duluth, according to Duluth Police Department reports. Retail transactions occur in several venues, for example, in homes, city parks, public housing, and a motel, as found in one Duluth drug sweep in September 1999.
Law enforcement pressure in Chicago, Milwaukee, and Minneapolis/St. Paul has driven gangs into areas of Minnesota that have less police presence and also offer the lure of untapped markets. For example, the Bemidji Police Department reports that gang members are distributing crack cocaine and expanding operations from Bemidji to more rural areas. According to the Duluth Police Department, gangs migrating to the area and selling crack cocaine pose its greatest threat. The gangs moved from Chicago, Milwaukee, and Minneapolis/St. Paul to Duluth to avoid competition and obtain greater profits. Law enforcement officials in Hennepin County and Rochester report the migration of gang members from Milwaukee, Chicago, Gary, and Detroit.
Other criminal groups add to the growing cocaine distribution networks in Minnesota. The Plymouth Police Department reports that small groups of Russians are active in cocaine retail sales within the ethnic Russian community. The St. Paul Police Department reports that OMGs, Hispanic gangs, Jamaican criminal groups, and independent dealers are retail distributors. DEA reports that Hispanic gangs retail crack in the Moorhead area. The Bloomington Police Department also reports that Hispanic gangs are distributing powdered cocaine in Bloomington.

---
To Top To Contents To Previous Page To Next Page