National Drug Intelligence Center
Minnesota Drug Threat Assessment
August 2001
---
Overview
Minnesota.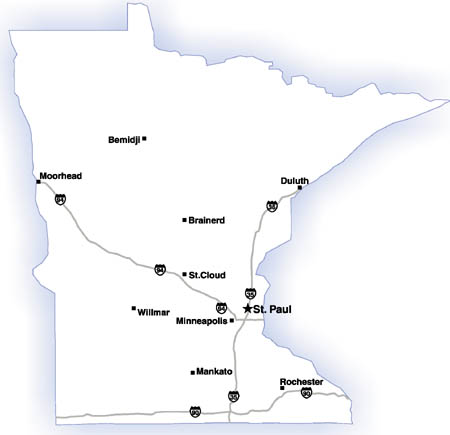 Note: This map displays features mentioned in the report.
Minnesota ranks as the twenty-first most populous state with 4.9 million residents. Approximately 53 percent live in the seven-county Minneapolis/St. Paul metropolitan area. Over 90 percent of Minnesota's population are Caucasian; African Americans are the largest minority with nearly 3 percent. Minnesota is the fastest-growing state in the Midwest. The total population grew 9.1 percent between 1990 and 1998, and the minority population, particularly Hispanic, Asian, and African American, increased by 45 percent. Roughly one-third of the population growth is due to migration. The median age has increased from 32 to 35 since 1990, while the percentage of residents under 18 has held steady at 26 percent.
Minnesota
Population (2000)
4.9 million
U.S. ranking
21st
Median household income (1999)
$48,112
Unemployment rate (1999)
2.8%
Land area
84,068 square miles
217,736 square kilometers
Shoreline
206 miles
332 kilometers
Capital
St. Paul
Other principal cities
Duluth, Minneapolis, Rochester, St. Cloud
Number of counties
87
Principal industries
Paper products, machinery, printing, food products
Almost 400 million tons of goods, worth over $350 billion, were moved through Minnesota in 1997. Freight hauled by rail accounted for 47 percent, by truck 32 percent, and by ship 21 percent of the total tonnage. Airfreight accounted for less than 1 percent of total tonnage moved through the state.
The Minneapolis/St. Paul International Airport is one of the busiest airports in the United States. It provides access to all major domestic and international cities with nonstop and one-stop flights. In 1999, it handled more than 34 million passengers and over 360 tons of cargo.
Minnesota has 130,000 miles of roads; 913 are interstates and over 14,000 are urban streets. The remaining roads are rural. Interstate 35 runs from Laredo, Texas, on the U.S.-Mexico border to Duluth. Interstate 90, which runs from Boston to Seattle, passes through the southern part of the state. Interstate 94 provides easy access from Minnesota to Milwaukee and Chicago.
Minnesota's northern border and shoreline are ideal for smuggling aliens and contraband, including drugs. The border passes through national forests and huge lakes, is minimally patrolled, and, for the most part, is sparsely populated. Minnesota has 13 ports of entry on Lake Superior and along the 596-mile border with Canada. Only three (Baudette, Grand Portage, and Warroad) are manned 24 hours a day. According to U.S. Customs Service (USCS) data, nearly 2.9 million people entered Minnesota, either as pedestrians or as passengers, in all manner of conveyances in fiscal year (FY) 1999.
The Minneapolis/St. Paul area is the nation's third largest trucking center. Over 33,000 interstate carriers have authority to operate in Minnesota. While trucks carried only 32 percent of Minnesota's freight tonnage in 1997, they accounted for the largest amount of freight by value at over $252 billion. Minnesota's cross-border trade with Canada is largely dependent on trucking fleets. In 1999, Minnesota ranked second behind Michigan in the amount of freight arriving by truck from Canada--8.9 million tons. The amount of goods arriving in Minnesota by truck directly from Mexico was much smaller. Minnesota ranked twenty-sixth in the nation with over 83,000 tons of goods arriving from Mexico.
Minnesota's rail system consists of 4 major and 20 smaller carriers operating over 4,600 miles of active railroad track. The state has 5 intermodal freight yards, where truck trailers and containers piggyback on trains, and 20 rail-ship intermodal facilities. Trains carried 159 million tons of freight through Minnesota in 1997.
Minnesota has two waterway transportation systems, the inland Mississippi River System and the Great Lakes-St. Lawrence Seaway. The inland system has 231 miles of navigable waterways and supports five port areas with over 17 million tons of cargo transported in 1999. The largest river port is St. Paul, which handled over one-third of inland water tonnage. Minnesota has 206 miles of shoreline and four ports on Lake Superior. Those ports handled a combined tonnage of over 67 million in 1999. Duluth is Minnesota's principal Great Lakes port. It has the nation's largest inland harbor and handles a high volume of foreign shipping. Over 39 million tons of cargo passed through the port of Duluth in 2000.
Drug use is increasing in Minnesota. The state ranks twenty-eighth in the nation for drug use among all age groups, but ranks eighth and tenth among 12- to 17-year-olds and 18- to 25-year-olds, respectively, according to the National Household Survey on Drug Abuse. (See Table 1.) In 1993, an estimated 4.6 percent of Minnesotans aged 12 and older had used an illicit drug within the prior month, compared with 5.8 percent nationwide. By 1999, the gap had greatly narrowed, with 6.7 percent of Minnesotans and 6.9 percent of national survey respondents reporting drug use in the past 30 days.
Table 1. Illicit Drug Use, Past Month, United States and Minnesota, 1999
United States Percent
Minnesota Percent
Minnesota Rank

All Age

Groups
6.9
6.7
28
12-17
11.1
13.1
8
18-25
16.9
20.2
10
26 or Older
4.6
3.4
38
Source: 1999 National Household Survey on Drug Abuse.
Statistics from the Drug Abuse Warning Network (DAWN) also reflect high drug abuse among Minnesota's teenagers. In 1999, Minneapolis ranked second among the nation's 21 DAWN sites for most hospital emergency department (ED) drug abuse episodes per 100,000 population aged 12 to 17. When considering female users only, Minneapolis led all sites in this age group.
Drug-related arrests continue to rise, but the rate slowed considerably in 1999. During that year, drug arrests increased only 2.7 percent to 22,600. Six of the previous 7 years showed double-digit increases. Nevertheless, drug arrests in 1999 were three times higher than at the beginning of the decade. Arrest demographics changed little between 1995 and 1999: 85 percent of those arrested were male, 73 percent were Caucasian, and 61 percent were between the ages of 18 and 24.
Chart 1. Drug Arrests, Minnesota, 1990-1999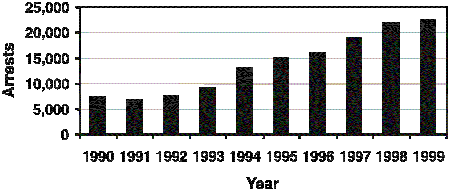 d-link
Source: Minnesota Bureau of Criminal Apprehension.
Between 1995 and 1999, the drug arrest rate per 100,000 rose 45 percent, fueled primarily by counties in the Minneapolis/St. Paul metropolitan area. The seven-county area accounted for 61 percent of all drug arrests in 1999. During that same period, the number of arrests in Dakota and Washington Counties nearly doubled. Hennepin County arrests increased by one-third, but the county had the most arrests per 100,000 in the metropolitan area.
Mexican drug trafficking organizations (DTOs) are the primary suppliers of illicit drugs to Minnesota. They are transporters and distributors of powdered cocaine, heroin, marijuana, and methamphetamine, using private vehicles, aircraft and parcel services to transport drugs into the state.
Gangs control transportation and distribution of crack cocaine and retail distribution of powdered cocaine and heroin. The dominant gangs in Minneapolis are the Crips, Gangster Disciples, and Vice Lords, which have migrated to smaller cities and rural areas in recent years. These migrations have fostered violence and the use of drugs that local law enforcement often is not equipped to handle.
Gangster Disciples
The Gangster Disciples, the largest Chicago-based street gang, is affiliated with the Folk Nation. Gangster Disciples members are primarily African American. The gang has been in existence since the early 1960s and functions with a structure similar to a corporation. The gang conducts illegal drug operations throughout the Chicago area, primarily in low-income areas on the south and west sides of the city. The Gangster Disciples operates drug distribution networks throughout the state of Illinois and has been identified in over 40 states across the nation. The Gangster Disciples has been in a state of flux because law enforcement authorities have targeted it in recent years. These investigations resulted in indictments and convictions of almost 40 leaders, including Larry Hoover who served as "Chairman of the Board" since the early 1970s. At its peak, the retail drug operation of the Gangster Disciples was reportedly worth over $100 million annually.
Vice Lords
The Vice Lords, the oldest street gang in Chicago, is affiliated with the People Nation. Its members are predominantly African American. The Vice Lords is split into major factions such as the Conservative Vice Lords, Traveling Vice Lords, and Four Corner Hustlers. Each faction has distinct membership and leadership and is not as structured as the Gangster Disciples. Each faction operates its drug distribution networks in Chicago, neighboring counties, and surrounding states.
---
To Top To Contents To Next Page