National Drug Intelligence Center
Northern Mariana Islands Drug Threat Assessment
October 2003
---
Marijuana
Marijuana is readily available and widely abused in the CNMI; however, it is difficult to quantify the extent of marijuana abuse due to the lack of drug abuse statistics and marijuana-related survey data for the CNMI.
From 2000 to 2001 law enforcement eradication efforts caused a decrease in local cannabis cultivation, and distributors had to obtain most of their marijuana from sources outside the commonwealth. As a result, prices increased dramatically. A joint (0.5 gram), also known as a stick, of marijuana sold for an average price of $2.50 from 1997 to 1999 when supplies of locally produced marijuana were plentiful. The price of a joint subsequently increased to $20 to $50. In addition, sandwich bags (nickel and dime bags) of marijuana have been replaced by 1-inch-square, resealable bags containing small quantities of marijuana that sell for $20 to $35 each. Tourists typically are charged higher prices for retail quantities of marijuana than are local residents. At the wholesale level in Saipan, marijuana sells for approximately $1,500 per pound.
As a result of strong eradication efforts by law enforcement, cannabis cultivation in the CNMI is primarily limited to small quantities intended for personal use. CNMI authorities now focus on undercover operations, controlled purchases, and border interdiction.
According to the Department of Public Safety Criminal Investigation Bureau, marijuana is transported to the CNMI by criminal groups that cultivate cannabis in the Philippines and the neighboring island of the Republic of Palau. (See Figure 4.) Filipino criminal groups typically transport marijuana in cargo containers aboard commercial maritime vessels. Criminal groups from Palau generally pay couriers to transport marijuana concealed on their bodies or packed in coolers. Local cultivators in the CNMI also transport small quantities of marijuana from island to island.
Figure 4. Marijuana transportation from the Philippines and Palau to the Northern Mariana Islands.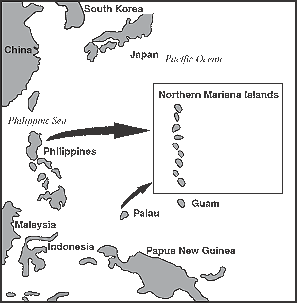 Law enforcement authorities report that marijuana is distributed throughout the CNMI; however, there is no available information regarding the individuals or groups involved in retail-level marijuana distribution.
---
To Top To Contents To Previous Page To Next Page