National Drug Intelligence Center
Northern Mariana Islands Drug Threat Assessment
October 2003
---
Methamphetamine
Methamphetamine, specifically crystal methamphetamine, poses a significant drug threat to the CNMI. Methamphetamine abuse increased in the CNMI in the 1990s. Most abusers in the CNMI prefer crystal methamphetamine, known as ice or shabu, to the powdered form of the drug. Law enforcement authorities report that many wholesale and retail crystal methamphetamine distributors also abuse the drug. The Community Guidance Center currently counsels more than 270 patients--about 58 percent of its caseload--for crystal methamphetamine abuse. Despite the significance of this threat, a 1999 student survey conducted by the Community Guidance Center (formerly the Division of Mental Health and Social Services) in the CNMI revealed that approximately 5 percent of students in grades 7 through 12 had used methamphetamine at least once, compared with the national rate of approximately 9 percent as reported by the Youth Risk Behavior Survey.
Violence related to crystal methamphetamine abuse poses a significant concern to law enforcement agencies in the CNMI. Along with the increase in crystal methamphetamine abuse in the 1990s, there was a corresponding increase in violent crime, particularly domestic assaults. According to the Secretary of the Department of Public Health, this increase in domestic violence can be attributed directly to the increase in abuse of illicit drugs, especially methamphetamine. Methamphetamine abusers are prone to become violent, particularly when suffering from withdrawal symptoms. Many robberies in the CNMI also have been associated with the increase in crystal methamphetamine abuse.
The price of crystal methamphetamine has decreased, and the purity has remained stable at high levels, indicating that the drug may be increasingly available. In 1999 crystal methamphetamine sold for as much as $1,000 per gram; in 2001 the price decreased to $500 to $600 per gram. At the retail level the drug often is packaged in a glassine bag that contains one-tenth of a gram (known as a plate) and sells for $100. (See Figure 1.) From 1996 to 2002, crystal methamphetamine purity remained stable, ranging from 94 to 99 percent.
Figure 1. Size comparison of a penny and a plate.
NDIC.
The DEA/CNMI Task Force seized a total of 25 kilograms of crystal methamphetamine from 1996 through February 2002. In 2001 law enforcement authorities made a significant seizure of 1.8 kilograms of crystal methamphetamine. Another seizure occurred in September 2001, when DEA/CNMI Task Force officers seized more than 212 grams of crystal methamphetamine, along with 77 grams of marijuana, from a CNMI resident who was distributing the drugs on Saipan.
Nearly all drug investigations and federal sentences in the CNMI involve crystal methamphetamine. From FY1997 through FY2001 methamphetamine-related federal sentences constituted 100 percent of all drug-related federal sentences in the CNMI every year except FY1998. According to U.S. Sentencing Commission (USSC) data, of the 43 drug-related federal sentences during this period, 42 were methamphetamine-related, and 1 (in FY1998) was heroin-related. During the same period methamphetamine-related federal sentences nationwide constituted a much smaller percentage of federal drug-related sentences, ranging from a low of 10.2 percent to a high of 14.5 percent. (See Table 1.)
Table 1. Percentage of Methamphetamine-Related Federal Drug Sentences, CNMI and United States, FY1997-FY2001

| | CNMI | United States |
| --- | --- | --- |
| FY1997 | 100.0 | 10.2 |
| FY1998 | 91.6 | 11.4 |
| FY1999 | 100.0 | 12.8 |
| FY2000 | 100.0 | 14.5 |
| FY2001 | 100.0 | 12.4 |
Source: U.S. Sentencing Commission.
There has been no reported production of methamphetamine in the CNMI. Crystal methamphetamine is smuggled into the CNMI from Japan, Taiwan, and China, often via the Philippines and Guam. (See Figure 2.) Criminal groups in Southeast Asia smuggle crystal methamphetamine to the CNMI via the Philippines using couriers on commercial aircraft, package delivery services, and commercial maritime vessels. In June 2000, authorities at the Saipan airport arrested a South Korean man carrying 4 pounds of crystal methamphetamine. The man had traveled from Korea to the Philippines to obtain the crystal methamphetamine and then had smuggled the drug to Saipan via Guam.
Figure 2. Methamphetamine transportation to the Northern Mariana Islands from Asia.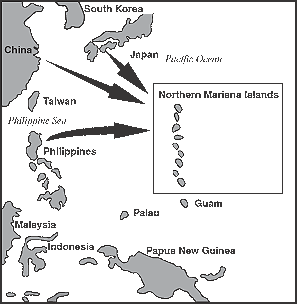 According to local law enforcement officials, members of Inagawa-Kai, a subgroup of the Yamaguchi-Gumi, the most violent subgroup of the Yakuza, recruit couriers to smuggle crystal methamphetamine to the CNMI from Asian countries via the Philippines. These couriers transport most of the crystal methamphetamine to the CNMI aboard commercial aircraft. In many cases the couriers are unwitting accomplices who are offered a vacation in Saipan in return for transporting a package or other item to Saipan. The crystal methamphetamine often is hidden in the shafts of golf clubs, in bottles of shampoo, or in other items that are then given to the couriers. After arriving in the CNMI, couriers typically stay in a hotel room for up to a week until they are contacted by an individual who retrieves the package. The Yakuza also reportedly transports handguns to the CNMI along with shipments of crystal methamphetamine, increasing the potential for violence related to the drug.
Maritime vessels also are used to transport crystal methamphetamine to the CNMI, although no recent seizures of methamphetamine from commercial maritime vessels have been reported.
A small amount of the methamphetamine available in the CNMI is produced in California and Mexico and transported to the commonwealth via Hawaii. (See Figure 3.) Mexican criminal groups transport methamphetamine to Hawaii using couriers aboard commercial aircraft, and then transport portions of these shipments to the CNMI where the methamphetamine is distributed for a greater profit than in Hawaii. According to DEA, some of these Mexican criminal groups convert powdered methamphetamine to crystal methamphetamine in Mexico and the United States before transporting the drug to Hawaii.
Figure 3. Methamphetamine movement from California to Hawaii to the Northern Mariana Islands.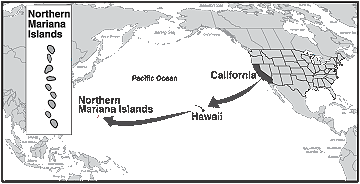 Japanese criminal groups are the primary distributors of crystal methamphetamine in the CNMI. Chamorro, Filipino, and Chinese criminal groups also distribute the drug. These criminal groups, who sell the drug to lower-level dealers, typically distribute only to family members or members of similar ethnic communities. Crystal methamphetamine typically is sold in 1-gram or one-tenth-gram quantities, depending on the level of distribution. Local residents distribute crystal methamphetamine from private residences but usually only to individuals they know or who have been referred to them.
In a typical distribution scenario, Japanese criminals (Yakuza members or associates) arrive on Saipan and retrieve crystal methamphetamine from couriers they have employed. These criminals, who often recruit taxi drivers as retail distributors in Saipan, remain on the island for about a week while the drug is being distributed. Some Japanese criminals become familiar with purchasers and on subsequent trips to Saipan distribute the drug themselves.
---
To Top To Contents To Previous Page To Next Page