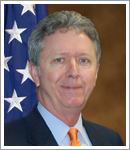 Michael F. Walther was appointed Director of the National Drug Intelligence Center (NDIC) by the Attorney General of the United States on August 29, 2005. NDIC is a component of the Department of Justice (DOJ) under the direction of the Deputy Attorney General. As NDIC Director, Mr. Walther oversees the production of strategic drug intelligence for the U.S. counterdrug community.
Before coming to NDIC, Mr. Walther was a career federal prosecutor and served most recently as Acting Chief of the DOJ Narcotic and Dangerous Drug Section (NDDS) in Washington, D.C. In that capacity, he supervised senior DOJ trial attorneys engaged in the investigation, coordination, and prosecution of major domestic and international narcotics trafficking and money laundering organizations.
Prior to his appointment as Acting Chief, Mr. Walther served as NDDS Deputy Chief for Enforcement Operations and NDDS Deputy Chief for Special Operations. Mr. Walther also served as an Assistant U.S. Attorney for the Eastern District of Louisiana (New Orleans) from 1995 to 1999, where he was assigned to the Organized Crime Drug Enforcement Task Force and successfully prosecuted a series of high-profile cases targeting violent drug trafficking organizations.
From 1980 to 1992, Mr. Walther served as a commissioned officer and judge advocate in the U.S. Air Force. After a series of foreign and domestic assignments focusing primarily on international and criminal law, Mr. Walther was selected by the Air Force Judge Advocate General to serve as a Special Assistant U.S. Attorney for the District of Columbia from 1990 to1991, prosecuting narcotics trafficking offenses as part of a Department of Defense (DoD)-sponsored effort directed by then-Drug Czar, William Bennett.
After leaving active military service in 1992, Mr. Walther maintained a military reserve affiliation, first as a member of the U.S. Air Force Reserves and later as a member of the U.S. Army Reserves. In late 2006, Mr. Walther deployed to Iraq with the U.S. Army III Corps and was assigned to the Office of the Staff Judge Advocate, Multi-National Corps Iraq. He later served on the staff of General David Petraeus, Commander, Multi-National Force Iraq, as Director of the Law and Order Task Force in Baghdad.
Mr. Walther is a native of New Orleans, Louisiana, and a graduate of Tulane University (B.A., 1978) and the University of the Pacific, McGeorge School of Law (J.D., 1984). Mr. Walther is married to the former Marla Harris and has five children.