Slide 1

The Consumer Benefits of Telco Entry in Video Markets

Hal J. Singer, Criterion Economics
---
Slide 2
Literature
Articles

Crandall, Sidak & Singer, Fed. Comm. L. J. (2007) (estimating annual benefits of $6 billion)
Crandall & Litan, Report (2006) (estimating annual benefits of between $7.5 and $14 billion)
Hazlett, George Mason Law & Economics Research Paper (2006) (estimating annual benefits of $9 billion)
Brito & Ellig, George Mason Working Paper (2006) (estimating annual benefits of $8 billion)
Ford & Koutsky, Phoenix Center Policy Bulletin (2006) (estimating annual benefits of $8 billion)

Estimates are likely conservative because they are based on overbuilder outcomes; telcos are more potent competitors, especially for bundled offerings
---
Slide 3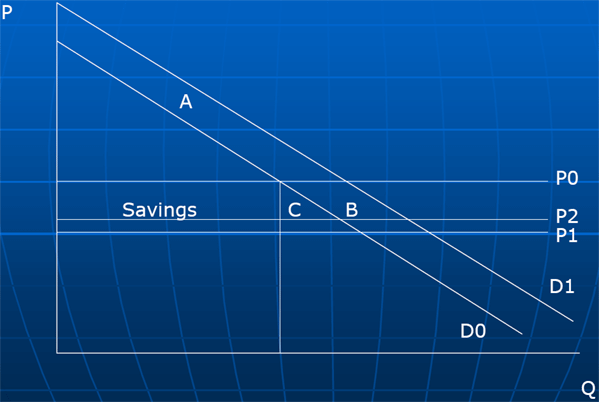 [D]
---
Slide 4
Cable Inflation Appears to Be Slowing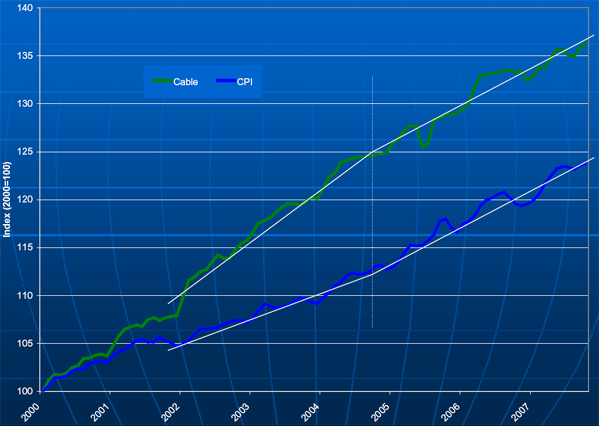 [D]
---
Slide 5
Price/Quality Comparison of Double Play (Video/Internet) in Dallas
| | | |
| --- | --- | --- |
| | AT&T | Time Warner |
| Price | $59 | $74.50 |
| Cable Channels | 100 | 85 |
| Internet Speed | 1.5/1 | 1.5/.384 |
Source: AT&T's launch in bits Cable, broadband deal to come out gradually, may push prices down, Dallas Morning News, Mar. 6, 2007, at 1D.
---
Slide 6
Price/Quality Comparison of Triple Play (Video/Internet/Phone) in Fairfax
| | | |
| --- | --- | --- |
| | Verizon FIOS | Cox Digital Bundle |
| Price | $120 | $156 |
| Channels | Digital + Sports & News Tier | Digital + Sports & Info Tier |
| Maximum Speed (Down/Up) | 15/2 Mbps | 15/2 Mbps |
| Telephone | Unlimited | Unlimited |
Sources: Cox Bundle Fairfax, available at http://www.cox.com/fairfax/bundle.asp; https://www22.verizon.com/ForYourHome/NationalBundles/NatBundlesHome.aspx#
---
Slide 7
Effect of Wireline Entry in Video Markets (1 of 2)
FCC (2006): Cable rates 17 percent lower in areas where MSO faced competition from a wireline overbuilder
GAO (2005): Cable rates 16 percent lower in areas where MSO faced competition from a wireline overbuilder
---
Slide 8
Effect of Wireline Entry in Video Markets (2 of 2)
Bank of America survey: in areas where Verizon was rolling out FiOS, MSOs responded with "not actively advertised" price cuts of 28-42% that are offered only in areas where FiOS video service is available

Cox 43%
Charter 29%
BrightHouse 38%
Source: Bank of America Equity Research, Battle for the Bundle: Consumer Wireline Services Pricing, Jan. 23, 2006, at 10 (surveying prices in Herndon, VA, Keller, TX, and Temple Terrace, FL).
---
Slide 9
An Alternative Prediction Model
Structure-Conduct Relationship
NEIO: (P-C)/P = HHI/E under Cournot
Need estimate of

E (elasticity of demand)
Change in HHI from telco entry
---
Slide 10
Predicted Price Effect
Hazlett (2006)
Inputs

E = -1.5
Telco market share = 20% (based on RCN penetration rate)

Predicted decrease in price: 14%
---
Slide 11
AT&T's Projected Video Subscribers/Homes Passed
[D]
Source: Buckingham Research, Oct. 4, 2007
---
Slide 12
25 Markets Entered by AT&T as of October 2007
6/2006 – San Antonio
11/2006 – Houston
12/2006 – Muncie, Indianapolis, Anderson, Stamford, New Haven, Hartford, Bloomington, San Jose, San Francisco
2/2007 – Racine, Milwaukee
3/2007 – Dallas-Ft. Worth, Kansas City
5/2007 – Detroit, Ann Arbor, Ventura County, Riverside County, Los Angeles County
6/2007 - Cleveland, Akron, San Diego
8/2007 - Sacramento, Oklahoma City
---
Slide 13
Competitive Responses (1 of 4)
Santa Rosa, California
Comcast
"Comcast is likely rushing to deliver the new features [video-on-demand, more channels] in Santa Rosa because rival AT&T has started offering its own digital TV service in select neighborhoods."
Source: Comcast Raising Prices Again, Except In Most Of Santa Rosa: Average Cable Bill To Jump Almost 5%; Santa Rosa Rates Unchanged As System Gets Upgraded, The Press Democrat, Oct. 17, 2007, at A1.
---
Slide 14
Competitive Responses (2 of 4)
Houston
Comcast
"Partly as a response to these two IPTV deployments, Comcast will offer more linear and high-definition channels, video-on-demand titles and digital phone features to its 700,000 basic customers in and around Houston before the end of June."
Source: Comcast Promises To Fight For Every Customer As It Faces DBS And IPTV Competition In Houston, CableWorld, Apr. 16, 2007.
---
Slide 15
Competitive Responses (3 of 4)
San Antonio
Time Warner Cable
Time Warner Cable Product Director said that he was launching new products, including a triple-play service, as a direct response to AT&T entering the market in San Antonio.
Source: Meet the System San Antonio: Time Warner Cable Fights AT&T in its Hometown, CableFax's Cable World, Aug. 13, 2007.
---
Slide 16
Competitive Responses (4 of 4)
San Diego
Cox
"Regional manager of Cox San Diego says the Tech Solutions program, Pivot and the expansion of video-on-demand, high-definition and local programming are … key weapons to be used against Cox's competitors, a field that's grown recently: AT&T premiered U-verse in portions of the city earlier this year."
Source: San Diego: Meet the System, CableFAX's CableWorld, May 7, 2007.
---
Slide 17
Requirements Associated with Cable Franchise
pay a gross earnings tax
designate channels for public use
construction of Public-Education-Government (PEG) studios all over the state
protect information on customers' viewing habits
build out systems to every household in the service area ("universal service")
---
Slide 18
Connecticut Saga
12/01/06: AT&T began offering U-Verse in parts of nine towns
6/07/07: Department of Public Utility Control (DPUC) rules that AT&T's U-Verse is not a cable service
7/19/07 : Trade group of cable companies filed a federal lawsuit and a state appeal
7/29/07: Federal judge rules U-Verse is a cable offering Connecticut Saga (continued)
---
Slide 19
Connecticut Saga (continued)
9/4/07: Governor signs bill into law that allows new entrants to apply for a franchise and offer services within 30 days
10/1/07: AT&T files an application under the new law
10/2/07: AT&T's motion for reconsideration is denied
10/15/07: DPUC orders AT&T to stop signing up new video customers and installing new facilities until it has obtained a legacy cable franchise
11/1/07: Superior Court Judge overturned DPUC's ruling
---
Slide 20
Connecticut Saga (continued)
"[The DPUC's decision is] a huge total victory for Connecticut consumers. This decision embodies completely the position that I have advocated—that this service is cable and must be regulated as cable to protect against AT&T cherry picking the wealthiest and most accessible consumers."

AG Richard Blumenthal (10/15/07)
---
Slide 20
A Change of Heart
"Continued legal combat ill serves the common objective of providing consumers with lower prices and better service. Any perceived tilt in the video playing field should be addressed by legislators in the 2008 session."

AG Richard Blumenthal (11/1/07)
---
Slide 21
Policy Implications
Key policy question: Should video entrant be saddled with universal service requirement for the sake of regulatory symmetry?

No: Incumbent MSO subsidized universal service requirement with monopoly profits
Even if incumbent MSO terminated service in certain areas, every home is passed by DBS
---
Slide 22
Policy Implications (continued)
Pareto efficiency: an outcome is more efficient if at least one person is made better off and nobody is made worse off
Requirement that all Connecticut consumers benefit before any individual resident benefits is the Anti-Pareto rule