Grants
The Department of Justice offers funding opportunities to support law enforcement and public safety activities in state, local, and tribal jurisdictions; to assist victims of crime; to provide training and technical assistance; to conduct research; and to implement programs that improve the criminal, civil, and juvenile justice systems.
The Justice Grants System (JustGrants)
Supporting Communities After Mass Violence Incidents
Communities that have been affected by mass violence incidents may be able to apply for assistance through several DOJ grants.
Fiscal Year 2023 DOJ Program Plan
The DOJ Program Plan is a tool to help applicants find funding opportunities (solicitations), managed by the DOJ grant-making components, that address their criminal, juvenile, and civil justice needs.
Office of Community Oriented Policing (COPS)
The Office of Community Oriented Policing Services (COPS) is responsible for advancing the practice of community policing by the nation's state, local, territorial, and tribal law enforcement agencies through information and grant resources. The COPS Office awards grants to hire community policing professionals, develop and test innovative policing strategies, and provide training and technical assistance to community members, local government leaders, and all levels of law enforcement.
Office of Justice Programs (OJP)
Office of Justice Programs (OJP) provides innovative leadership to federal, state, local, and tribal justice systems, by disseminating state-of-the art knowledge and practices across America, and providing grants for the implementation of these crime fighting strategies. Because most of the responsibility for crime control and prevention falls to law enforcement officers in states, cities, and neighborhoods, the federal government can be effective in these areas only to the extent that it can enter into partnerships with these officers. Therefore, OJP does not directly carry out law enforcement and justice activities. Instead, OJP works in partnership with the justice community to identify the most pressing crime-related challenges confronting the justice system and to provide information, training, coordination, and innovative strategies and approaches for addressing these challenges. OJP's goals are to strengthen partnerships with state, local and tribal stakeholders; ensure integrity of, and respect for, science - including a focus on evidence-based, "smart on crime" approaches in criminal and juvenile justice; and administer OJP's grant awards process in a fair, accessible and transparent fashion - and, as good stewards of federal funds, manage the grants system in a manner that avoids waste, fraud and abuse. Visit the OJP bureaus and program offices listed below:
The National Criminal Justice Reference Service (NCJRS), supported by OJP, offers a range of services and resources to meet the information needs of anyone interested in criminal and juvenile justice, victim assistance, and public safety.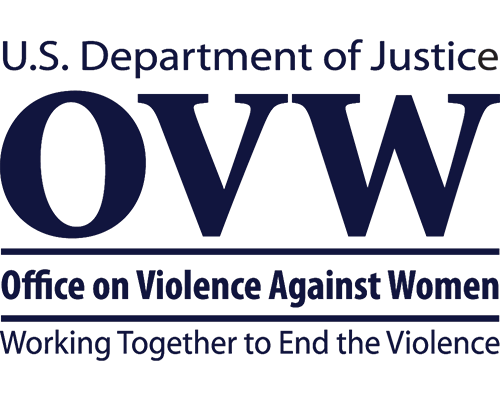 Office on Violence Against Women (OVW)
The Office on Violence Against Women (OVW) provides federal leadership in developing the national capacity to reduce violence against women and administering justice for, and strengthening services to, victims of domestic violence, dating violence, sexual assault, and stalking. OVW administers grant programs to help provide victims with the protection and services they need to pursue safe and healthy lives, while simultaneously enabling communities to hold offenders accountable for their violence.
Administrative Relief for DOJ Grant Recipients and Applicants Impacted by the Novel Coronavirus (COVID-19)
The Department of Justice recognizes the many challenges that DOJ award recipients are experiencing during the COVID-19 national emergency. On March 19, 2020, the Office of Management and Budget (OMB) issued OMB memorandum M-20-17, "Administrative Relief for Recipients and Applicants of Federal Financial Assistance Directly Impacted by the Novel Coronavirus (COVID-19) due to Loss of Operations," affording Federal awarding agencies additional flexibilities to provide administrative relief to funding recipients affected by the loss of operational capacity and increased costs due to the COVID-19 national emergency. Relief for various administrative, financial management, and audit requirements under 2 CFR Part 200, Uniform Administrative Requirements, Cost principles and Audit Requirements for Federal Awards can be found below for DOJ's three grant making agencies. In addition, these links provide other relevant information and answers to frequently asked questions by recipients and sub-recipients impacted by the COVID-19 national emergency and may be updated as new information becomes available:
Please keep in mind that in accordance with M-20-17, exceptions to 2 CFR Part 200 are time-limited and the flexibilities afforded to Federal awarding agencies will be reassessed by OMB within 90 days of the issuance of its memo.