President Johnson Realizes the Vision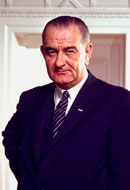 "It could be one of the longest and most far reaching steps toward an ultimate solution to the civil rights movement that can be taken."
With those words, then-Sentate Majority Leader Lyndon B. Johnson, on January 20, 1959, introduced a bill to establish the Community Relations Service. Five years later, CRS was established under Title X of the Civil Rights Act, which President Johnson signed into law on July 2, 1964.
President Obama Expands the Vision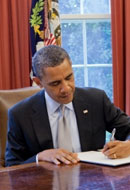 "Through this law, we will strengthen the protections against crimes based on the color of your skin, the faith in your heart, or the place of your birth. We will finally add federal protections against crimes abased on gender, disability, gender identity, or sexual orientation."
With those words, President Barrack Obama signed into law the Matthew Shepard and James Byrd, Jr. Hate Crimes Prevention Act on October 28, 2009. The legislation expanded CRS' mission to help communities develop strategies to prevent and respond to violent hate crimes.
Updated July 6, 2015