U.S. Attorneys
U.S. Attorneys

Friday, August 28, 2015
Three Men Sentenced For Counterfeit Credit Card Conspiracy
Three members of a conspiracy involving the sale of over 69,000 counterfeit credit cards have been sentenced to terms ranging from 12 to 36 month. They have also been ordered to pay restitution totaling $61,696.
 

Thursday, August 27, 2015
Former Police Officer Indicted for Selling Firearms to Felons
Kevin R. Lumpkin, of North Olmsted, OH has been indicted for selling a Hi-Point .45-caliber rifle and a Ruger .380-caliber pistol on different occassions to people he knew were convicted of felonies and therefore forbidden from possessing a firearm.
 

Wednesday, August 26, 2015
Mexican Drug Kingpin Sentenced to 11 Years in Prison for Trafficking Black Tar Heroin
The head of a Mexican drug trafficking organization (DTO) responsible for producing and distributing vast quantities of heroin into the United States has been sentenced to 135 months in prison, followed by a five-year term of supervised release.
 

Tuesday, August 25, 2015
Former Investment Banking Analyst with J.P. Morgan Securities and Two Friends Charged in $600,000 Insider Trading Scheme
An analyst with J.P. Morgan Securities and two longtime friends have been taken into custody after being charged in a federal grand jury indictment that alleges they participated in an insider trading scheme that netted more than $600,000 in illicit profits.
U.S. Attorney Spotlight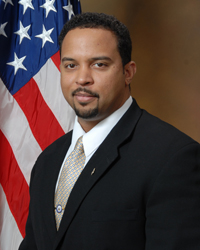 Kenyen R. Brown
Southern District of Alabama
Kenyen R. Brown has devoted his career to public service. Upon graduating from law school in 1995, Mr. Brown moved to Montgomery, Alabama, to work as a Deputy District Attorney for the Fifteenth Judicial Circuit.
Michael Ormsby
Eastern District of Washington
Michael C. Ormsby serves as the United States Attorney for the Eastern District of Washington, having been appointed by President Barrack H. Obama and confirmed by the United States Senate in September 2010.