Employment Opportunities
in the Southern District of California
Assistant U. S. Attorney Positions
Current AUSA Positions
No positions at this time
SDCA Application Form
The United States Attorney's Office, Southern District of California, serving San Diego and Imperial Counties, will only accept applications in response to a posted Assistant U.S. Attorney (AUSA) vacancy.
Qualified candidates who meet all the vacancy requirements are selected for interviews.  The United States Attorney's Office seeks highly qualified applicants with extensive litigation experience, strong writing skills and excellent credentials.  Exceptional lawyers who are active members of a state bar will be considered. 
Application Process
Vacancy announcements will be posted on USAJobs: www.usajobs.gov, the Office and Attorney Recruitment: www.justice.gov/careers/legal/, and through this website.
All applicants will be directed to apply on-line through the USAJobs website. Our office requires that all applicants submit the following materials as part of their application: Cover letter, resumé, writing sample and the completed SDCA application form. A copy of the SDCA application form is available on this website.
If you need assistance or have questions, please contact Nitza Williamson at (619) 546-9273 or via email: Nitza.Williamson@usdoj.gov.  
Applications materials must be submitted by the deadline listed on the vacancy announcement (EST).  Please include the vacancy announcement number in your cover letter when submitting your application materials.
Department Policies
Assistant U.S. Attorneys generally must reside in the district to which he or she is appointed.  See 28 U.S.C. §545 for district-specific information.
Employment is contingent upon the completion and satisfactory adjudication of a background investigation and this process includes getting fingerprinted, taking and passing a drug test, and  meeting citizenship requirements.
The Department of Justice is an Equal Opportunity/Reasonable Accommodation Employer. This agency provides reasonable accommodation to applicants with disabilities where appropriate. Determination on requests for reasonable accommodations will be made on a case-by-case basis.
Viewing Notice:
Portable Document Format (PDP) files may be viewed with the free Adobe Acrobat Reader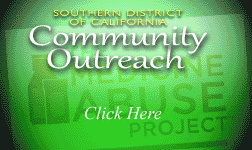 Learn about victim notification and rights, witness information, and helpful resources.