You are here
District of Nebraska
District of Nebraska
About the U.S. Attorney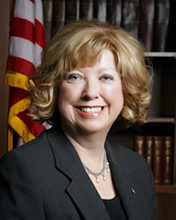 Deborah R. Gilg, USA
Deborah R. Gilg, was appointed by President Barack Obama on October 1, 2009 as the 32nd United States Attorney for the District of Nebraska , and the first female United States Attorney for Nebraska. Prior to her appointment, Ms. Gilg served as an elected county attorney in Western Nebraska for sixteen years.

About the District
Nebraska, the 16th largest state geographically, became the 37th state to join the Union on March 1, 1867. Its 77,000 square miles encompass 93 counties, and a population of over 1.8 million people. As one of the 26 states with only one federal judicial district, Nebraska boasts a diversity and variety of topography, geography and economy.
OFFICE CONTACT INFORMATION
Omaha
1620 Dodge St, Suite 1400
Omaha, NE 68102
Phone: (402) 661-3700
Toll free: (800) 889-9124
Fax: (402) 345-6958
 
Lincoln
487 Federal Building
100 Centennial Mall North
Lincoln, NE 68508
Phone: (402) 437-5241
Toll free: (800) 889-9123
Fax: (402) 437-5390
Attorney Vacancies & Volunteer Legal Internships
Your search returned no results.