U.S. Attorney S. Amanda Marshall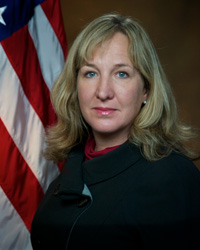 Amanda Marshall is the United States Attorney for the District of Oregon.  Nominated by President Barack Obama in November of 2010, Ms. Marshall was confirmed by the U.S. Senate in September of 2011.  As the chief federal law enforcement officer in Oregon, she oversees prosecution of all federal crimes and civil matters on behalf of the United States.  She manages a staff of more than 100 people in three offices in Portland, Eugene and Medford. 
Ms. Marshall is committed to carrying out the mission of the United States Department of Justice:  protecting Americans from terrorism and threats to national security, combating violent crime, fighting financial fraud and protecting the country's vulnerable populations -- children, the elderly, hate crime victims, and victims of exploitation.  She serves on the Attorney General's Subcommittees on Terrorism/National Security and Native American Issues.  Ms. Marshall also serves on the Attorney General's Working Groups on Child Exploitation, Medical Marijuana and Forensic Science.

Amanda Marshall has dedicated her entire professional career to public service.  Prior to her appointment as U.S. Attorney, she worked for the Oregon Department of Justice for approximately 10 years as an Assistant Attorney General and Attorney in Charge of the Child Advocacy Section, representing the Department of Human Services/Child Welfare.  In addition, she worked as a Deputy District Attorney in Coos County for five years, prosecuting a variety of cases – from property crimes to murder – and overseeing the Domestic Violence Prosecution Unit.
Marshall graduated from the University of Oregon in 1992 and received her law degree in 1995 from the Willamette University College of Law.  While in law school, she served as the Tribal Court Clerk for the Confederated Tribes of Grand Ronde.
Learn more about US Attorney Amanda Marshall's career in this interview she did with the Federal Executive Board. Oregon FEB YouTube site