Multi-Victim Cases
Victim Witness Assistance
The Victim-Witness Program of the United States Attorney's Office addresses the needs of crime victims and witnesses during the prosecution stage of the federal criminal justice process. The goal of the Victim-Witness Program is to ensure that crime victims are afforded their rights and that services are provided as entitled by law. This office is committed to treating victims and witnesses with fairness, respect and dignity.
Rights of Crime Victims (English) (Espanol)
Victim Notification System (VNS)
Dealing with A Traumatic Event
For more information, contact:
Theresa Parsley
Victim/Witness Specialist
Phone: (615) 736-5151, ext 382
Toll Free: (800) 238-9981
Fax: (615) 736-5323
theresa.parsley@usdoj.gov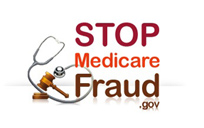 Stop Medicare Fraud
The U.S. Department of Health and Human Services (HHS) and U.S. Department of Justice (DOJ) are working together to help eliminate fraud and investigate fraudulent Medicare and Medicaid operators who are cheating the system.