Jenny A. Durkan
United States Attorney
Western District of Washington
U.S. Attorney's Office
700 Stewart St. Suite 5220
Seattle, Washington 98101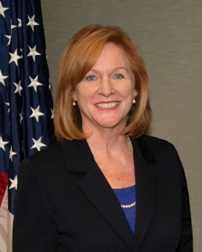 Jenny A. Durkan is the United States Attorney for the Western District of Washington. She serves as the top federal law enforcement officer for 19 counties in Western Washington.
U.S. Attorney General Eric Holder appointed Ms. Durkan to chair the Attorney General's Advisory Subcommittee on Cybercrime and Intellectual Property Enforcement and she is a member of three other Subcommittees; Terrorism and National Security, Civil Rights and Native American Issues. 
Under Ms. Durkan's leadership, the U.S. Attorney's office is increasing its efforts in enforcing intellectual property laws and combating the ever increasing threat of cyber/digital crimes.  She is also revitalizing the office's prosecutions in the areas of fraud and white collar crimes, environmental crimes, illegal gun sales and civil rights enforcement.
Before becoming U.S. Attorney, Ms. Durkan represented a wide variety of clients in civil and criminal cases in both state and federal court.  Throughout her legal career, Ms. Durkan has played leadership roles on a variety of public policy matters.  She served on the Washington State Sentencing Guidelines Commission as the first Citizen Observer on the Seattle Police Firearms Review Board and on two oversight investigations of the Seattle Police Department.  She also played an advisory role in the establishment of the King County Drug Court and the Mental Health Court.
Ms. Durkan has been active in both the state and federal bar associations.  She served on the Washington State Bar Association Board of Governors and as a lawyer representative to the Ninth Circuit Judicial Conference.  She also served on the Merit Judicial Selection Committee for court vacancies in the federal judiciary in Washington State.  Ms. Durkan also served as a founding board member of the Center for Women and Democracy and the Seattle Police Foundation.  She chaired the Washington State Attorney General's Task Force on Consumer Privacy, which resulted in legislation that became a national model for identity theft protections. 
Ms. Durkan, a Seattle-area native who grew up in Issaquah, graduated from the University of Notre Dame and received her law degree from the University of Washington.  She is a fellow in the American College of Trial Lawyers.  She is a member of the Washington State and District of Columbia bars.  Ms. Durkan was nominated by President Obama in May 2009 and was confirmed by a unanimous vote of the U.S. Senate on September 29, 2009.
U.S. Attorney Durkan's Annual Report to the community on the work of the U.S. Attorney's Office is available here.