Ronald C. Machen Jr.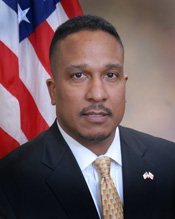 Ronald C. Machen Jr. was nominated to serve as United States Attorney for the District of Columbia by President Barack Obama on December 24, 2009. Mr. Machen's appointment was confirmed by the United States Senate on February 11, 2010.
As U.S. Attorney, Mr. Machen oversees the investigation and litigation of criminal and civil cases brought on behalf of the United States in the District of Columbia. He supervises the nation's largest U.S. Attorney's Office, which includes more than 300 Assistant U.S. Attorneys who practice in both federal and local courts. On the federal side, the office handles cases involving national security, white-collar crime, public corruption, gang violence, narcotics distribution, money laundering, child exploitation, and civil rights violations. On the local side, the office prosecutes all serious local crimes committed by adults in the District of Columbia, including homicides and sexual assaults.
As U.S. Attorney, Mr. Machen has led the office's efforts to combat corruption in the D.C. and federal governments. Since his appointment, the office successfully dismantled the largest domestic bribery and bid-rigging scheme in the history of federal contracting. In addition, the office secured guilty felony pleas from three members of the D.C. Council, the Chief of Staff to another Council member, and three individuals who admitted crimes relating to the 2010 D.C. mayoral campaign. Overall, the office has obtained more than 100 convictions in public corruption cases since the beginning of 2010.
Recognizing the importance of using financial tools to enforce the criminal law, Mr. Machen established a stand-alone Asset Forfeiture and Money Laundering Section within the office's Criminal Division. Similarly, Mr. Machen renewed the office's focus on affirmative civil enforcement actions to recover funds for taxpayers. As a result of these efforts, since Mr. Machen's appointment, the office has collected more than $2 billion in criminal and civil actions and asset forfeitures. In particular, the office entered deferred prosecution agreements with two foreign financial institutions who together agreed to forfeit more than $1.1 billion for illegally moving billions of dollars through the U.S. financial system on behalf of sanctioned entities.
In national security matters, since Mr. Machen's appointment as U.S. Attorney, the office has secured the convictions of a government scientist who attempted to provide classified information to a person he believed to be an Israeli intelligence officer, a Somali pirate, three Pakistani nationals who sought to smuggle terrorists into the United States, and the life sentence of a former State Department official who engaged in a three-decade espionage conspiracy.
As U.S. Attorney, Mr. Machen oversees the investigation and prosecution of nearly 20,000 cases that range from misdemeanors to murders each year in the Superior Court for the District of Columbia. In 2010, Mr. Machen, a former homicide prosecutor, established specialized units dedicated to the prosecution of "cold cases" and gang cases in the office's Homicide Section. Those units, consisting of some of the office's most experienced prosecutors, have built on the office's strong record of obtaining convictions in long-unsolved homicides and addressing retaliatory violence produced by warring gangs.
In the prosecution of local cases, Mr. Machen has recommitted the office to the community prosecution model pioneered by then-U.S. Attorney Eric H. Holder Jr. Through a variety of programs, the office seeks to enhance public safety through education and engagement. The office has particularly focused on programs designed to motivate young people, to reduce recidivism through successful reentry of former offenders, to enlist faith-based communities in improving public safety, and to engage diverse and underserved minority communities. As part of these efforts, Mr. Machen has personally spoken at scores of schools, houses of worship, and community meetings.
Mr. Machen also serves as a member of the Attorney General's Advisory Committee, a group comprised of a small number of U.S. Attorneys from around the country that provides advice and counsel to the Attorney General on policy, management, and operational issues.
Before Mr. Machen's appointment as U.S. Attorney, he was a partner at the law firm of Wilmer, Cutler, Pickering, Hale and Dorr and practiced in the firm's Investigations and Criminal Litigation group. Before practicing at WilmerHale, Mr. Machen served as an Assistant U.S. Attorney in the U.S. Attorney's Office for the District of Columbia from 1997 to 2001. In that role, Mr. Machen was responsible for representing the United States in a wide range of criminal matters in both the local and federal court systems of the District of Columbia.
Mr. Machen joined the U.S. Attorney's Office in 1997 after having served as a law clerk to the Honorable Damon J. Keith, U.S. Court of Appeals Judge for the Sixth Circuit. Mr. Machen graduated from Stanford University in 1991 and Harvard Law School in 1994.
During his career, Mr. Machen has been repeatedly recognized for his professional accomplishments.  In 2013, he received the Equal Justice Award from the National Bar Association.  In 2012, he received a "Visionary Award" from the Legal Times for helping to advance the practice of law during his time as U.S. Attorney.  In 2008, the National Law Journal named him one of the "50 Most Influential Minority Lawyers in America."  In 2007, The American Lawyer identified him as one of the "50 Most Promising Litigators in America Under the Age of 45," and in 2006, the Washingtonian magazine named him one of D.C.'s "Top 40 Lawyers Under 40."
Updated February 23, 2015