Thank you for visiting the website for the United States Attorney's Office for the Southern District of Alabama. Below, you can find the contact information to reach us by phone, mail, or you can contact the webmaster.

Phone Number: 251.441.5845
Fax Number: 251.441.5277
Correspondence to the office may mailed to:
United States Attorney's Office
63 South Royal Street, Suite 600
Mobile, AL 36602
United States Attorney
Kenyen R. Brown
Criminal Chief
John Cherry
Civil Chief
Eugene A. Seidel
Appellate Chief
Steven E. Butler
Admin Officer
Jim Tharp
If you have any comments or questions for the website, please e-mail the webmaster.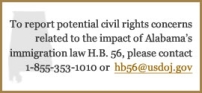 If you have any questions concerning disability discrimination, please call 251.441.5845 and ask for the Disability Discrimination Coordinator, or direct your inquiry in writing to:

U.S. Attorney's Office
Attn: Disability Discrimination Coordinator
63 South Royal Street
Suite, 600
Mobile, AL 36602
Natural Disaster
Fraud Hotline
If you believe you have been a victim of fraud from a person or an organization soliciting relief funds on behalf of storm victims or have knowledge of waste, abuse, or allegations of mismanagement involving disaster relief operations, contact the National Center for Disaster Fraud toll free at:
(866) 720-5721
You can e-mail it to: