Attorneys | Support Staff | Employee Benefits
Assistant United States Attorneys
Our office employs attorneys to work in the Criminal, Civil, or Appellate Divisions.
All attorney vacancies for this District will be posted on the Department of Justice Office of Attorney Recruitment and Management website as vacancies occur.
Candidates interested in applying for attorney vacancies must have a J.D. degree and be duly licensed and authorized to practice as an attorney under the laws of a state, territory, or the District of Columbia. Candidates must also possess a minimum of one year of post-J.D. experience and excellent academic credentials. Trial experience is a plus.
Employment for all positions is contingent upon the satisfactory completion of a background investigation by the Department of Justice. The investigation is thorough, and includes checks with present and former employers, military records, and credit bureaus. The investigation also includes verifications of tax filings and attendance at institutions of higher learning. Those who are selected are subject to drug testing by urinalysis.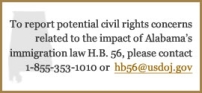 If you have any questions concerning disability discrimination, please call 251.441.5845 and ask for the Disability Discrimination Coordinator, or direct your inquiry in writing to:

U.S. Attorney's Office
Attn: Disability Discrimination Coordinator
63 South Royal Street
Suite, 600
Mobile, AL 36602
Natural Disaster
Fraud Hotline
If you believe you have been a victim of fraud from a person or an organization soliciting relief funds on behalf of storm victims or have knowledge of waste, abuse, or allegations of mismanagement involving disaster relief operations, contact the National Center for Disaster Fraud toll free at:
(866) 720-5721
You can e-mail it to: