Administrative Division
---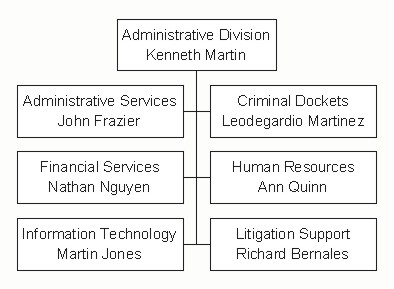 The Administrative Division of the office is a non-litigating division whose responsibility is to support the work of the office.
The Administrative Division is responsible for personnel management, payroll management, financial management, space management, internal controls, purchasing and distribution of supplies, as well as the purchasing and maintenance of office equipment.
Kenneth A. Martin, Director of Administration
The United States Attorney's Office Central District of California
Administrative Division
Suite 1700
312 North Spring Street
Los Angeles, California 90012
(213) 894-2400
Mortgage Settlement Information

SunTrust Mortgage Settlement Information

Individuals who believe that they may have been victims of lending discrimination by Countrywide and have questions about the settlement may email the Department of Justice at countrywide.settlement@usdoj.gov .