Law Enforcement Coordinating Committee
The Attorney General established a Law Enforcement Coordinating Committee (LECC) in all U.S. Attorney's Offices to promote and facilitate better communication among federal, state, and local law enforcement agencies, and to identify specific training and resource needs of the district and help locate resources to address such needs.
The U.S. Attorney's Office plays an important role in helping local and state law enforcement agencies gain access to federal resources and information that will assist them in their role of protecting the public. A few examples of the resources the office provides to law enforcement are accredited high-quality training seminars in specialized areas, access to DOJ grant information, and assisting officers and agencies in determining if a criminal matter qualifies for federal prosecution.
This unit also works with schools and community groups to plan and implement programs that reduce drug abuse and violence. The U.S. Attorney's Office initiated a program that resulted in the installation of the Drug Free - Gun Free School Zone signs that are now seen posted at the entrance to virtually every public school in northeastern Oklahoma.
The U.S. Attorney's Office sponsors a quarterly law enforcement luncheon and business meeting which is open to all law enforcement and emergency personnel. The purpose of the luncheon is to discuss topics in the criminal justice field, and to promote a spirit of cooperation and good will among law enforcement agencies.
Often, new federal law enforcement initiatives are launched, or DOJ policies are changed that affect law enforcement at the state and local level. The U.S. Attorney's Office plays a major role in notifying and training law enforcement agencies about these new initiatives and policy updates. This continuing communication process helps all law enforcement agencies to more effectively complement each other in protecting the public interest. The law enforcement assistance unit also serves as an information and referral source for the average citizen who is looking for direction in the maze of municipal, state, and federal justice systems.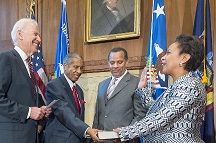 Attorney General Loretta E. Lynch is Sworn-In by Vice President Joe Biden on April 27, 2015.
Do you know your child's identity can be stolen? Watch this video to help protect your child from Identity Theft.