You are here
Northern District of Georgia
Northern District of Georgia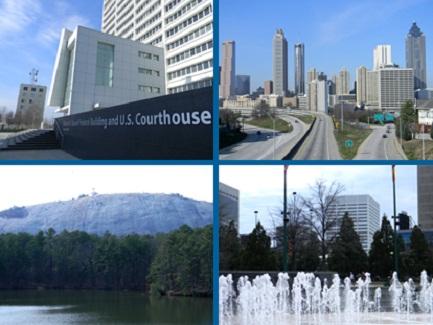 Welcome
 
Welcome to the United States Attorney's Office for the Northern District of Georgia. We enforce the criminal laws of the United States, represent the United States' interest in civil proceedings, and work collaboratively with partners in law enforcement and the community to make our district as safe as possible. Our mission is to serve you. We protect your safety in the community by prosecuting a broad array of federal crimes, including terrorism, human trafficking, cybercrime, civil rights, identity theft, child exploitation, and large-scale drug trafficking cases. We aggressively investigate and prosecute corruption by those in public office, government service, and corporate boardrooms. We preserve the integrity of federal programs that spend your tax dollars by litigating cases of fraud and theft from Medicare, the VA, HUD, and other agencies. Every day, our lawyers and support staff promote the mission of the Justice Department and make our community and our country a better place to live.
Our office priorities go beyond prosecuting criminals and litigating cases. We believe that arrests and prosecutions alone cannot solve all of the crime problems in our District. Accordingly, our office engages in prevention efforts to educate citizens about public safety threats, deter students and adults alike from turning to criminal conduct, and provide ex-offenders with an intensive re-entry program after they complete their sentences of imprisonment. We have sponsored public summits on violent crime, prescription drug abuse, human trafficking, prison re-entry, and other topics to bring together community members and law enforcement and find creative solutions to these problems.
Our web site is designed to provide information about our office and its many components. Our News Section highlights some of our cases and provides you more insight into what happens in federal investigations and their final outcomes in our federal courts.
Thank you for visiting our site.
John A. Horn, Acting United States Attorney
Featured Resources
On June 10, 2015, approximately 180 medical providers, policymakers, educators, substance abuse treatment providers, and law enforcement officers heard from a wide variety of experts and community representatives during a full day summit on the exponential growth of heroin trafficking and addiction in the Atlanta region. The U.S. Attorney's Office for the Northern District of Georgia, the Atlanta Police Department, the Atlanta-Carolinas HIDTA, Drug Enforcement Administration, the Office of National Drug Control Policy, and the Georgia Bureau of Investigation jointly hosted the summit at Atlanta Metropolitan State College.
Another one of the priorities of the office is to reach out to young people, particularly those in at-risk neighborhoods. Our recent Youth Justice Summit is the latest effort to connect and make a difference in the community.