Weed and seed
Weed and Seed, a community-based strategy sponsored by the U.S. Department of Justice (DOJ), is an innovative, comprehensive multiagency approach to law enforcement, crime prevention, and community revitalization.




Making sure that victims of crimes are treated with compassion, fairness and respect.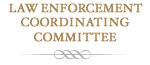 Training and seminars for Federal, State, and Local Law Enforcement Agencies.