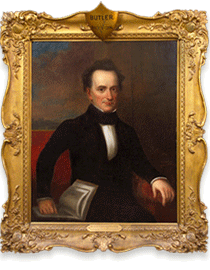 Benjamin Franklin Butler
Twelfth Attorney General 1833-1838
Benjamin Franklin Butler was born in Kinderhook Landing, New York, in December of 1795. He studied at the Academy in Hudson, New York, read law with Martin Van Buren, and after being admitted to the bar in 1817, became his partner. Butler was district attorney of Albany County from 1821 to 1824. He was appointed one of three commissioners to revise the State statutes in 1825. Butler was a member of the State legislature from 1827 to 1833. In 1833 he served as commissioner for the State of New York to adjust the New Jersey boundary line.
On November 15, 1833, President Jackson appointed Butler Attorney General of the United States, from which office he resigned in 1838. From that year until 1841 he was United States Attorney for the Southern District of New York. Butler was made principal law professor at the University of the City of New York in 1837. On November 8, 1858, he died in Paris, France.
About the Artist: John Mix Stanley (1814-1872)
Stanley was a portrait and landscape painter who specialized in scenes of Indian life in the West. Born in New York, he travelled extensively throughout the West and settled in Detroit in 1834 where he took up portrait painting. After 1850 he deposited his "Indian Gallery" at the Smithsonian Institution in hopes the Federal Government would purchase it. His hopes were not realized, but he remained in Washington, D.C, for the next decade. Tragically, his collection was almost totally destroyed by fire while being exhibited at the Smithsonian in 1865.
Stanley's portrait of Attorney General Butler was copied from one painted by Charles Bird King.
Updated July 7, 2017