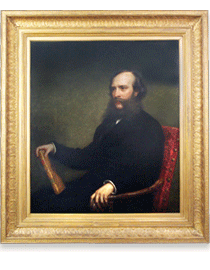 Edwards Pierrepont
Thirty-Third Attorney General 1875-1876
Edwards Pierrepont was born in North Haven, Connecticut, on March 4, 1817. He graduated from Yale and New Haven Law School, was admitted to the bar in 1840 and practiced law in Columbus, Ohio, from 1841 to 1845. He moved to New York and served as judge of the Superior Court of New York City from 1857 to 1860.
In 1862 Pierrepont was made a member of the Military Commission for the cases of State prisoners in the custody of the Federal military authorities, and in 1867 became a member of the State constitutional convention. From 1869 to 1870 he served as United States attorney for the Southern District of New York. President Grant appointed Pierrepont Attorney General of the United States on April 26, 1875. He was an active member of the "Committee of Seventy." In 1876 he became Minister Plenipotentiary of the United States to Great Britain, serving until December 1, 1877. Pierrepont died in New York City on March 6, 1892, where he had lived after his return from England.
About the Artist: Daniel Huntington (1816-1906)
Huntington was born in New York City. He began his art career by painting humorous illustrations of everyday life. After studying painting under G. P. Ferrero in Rome, he settled in New York City and established himself as a portraitist. He was a member and president of the National Academy of Art, and vice president of the Metropolitan Museum of Art for over thirty years. Huntington's portrait of Attorney General Pierrepont was painted in 1875.
Updated July 5, 2017