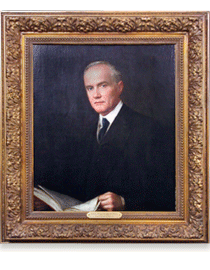 Thomas Watt Gregory
Forty-Ninth Attorney General 1914-1919
Thomas Watt Gregory was born in Crawfordsville, Mississippi, on November 6, 1861. He graduated from Southwestern Presbyterian University in 1883, and studied at the University of Virginia in 1884. He graduated from the University of Texas and began the practice of law in Austin in 1885. For eight years he was a regent of the University of Texas. He declined appointment as assistant attorney general of Texas in 1892, and an appointment to the State bench in 1896. Gregory was a delegate to the Democratic National Convention at St. Louis and State delegate at large to the Baltimore convention. He was appointed Special Assistant to the Attorney General on May 20, 1913, in the investigation and proceedings against the New York, New Haven and Hartford Railroad Company. On August 29, 1914, President Wilson appointed him Attorney General of the United States, and he held that office until March 4, 1919. Gregory was a member of Wilson's Second Industrial Conference in 1919 and 1920. He died in New York City on February 26, 1933.
About the Artist: Adolfo Muller-Ury (1864-1947)
Born in Airolo, Switzerland, the artist studied and exhibited in Rome, Munich and Paris. He moved to the United States in 1888. In Europe he specialized in religious characters, but in America he painted mostly Government officials and persons in the business world. His portraits include Pope Pius XII, Cardinal Spellman, Kaiser Wilhelm, President McKinley, General Grant and President and Mrs. Woodrow Wilson.
Updated June 29, 2017