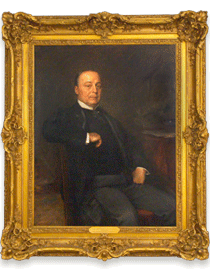 Philander Chase Knox
Forty-Fourth Attorney General 1901-1904
Philander Chase Knox was born on May 6, 1853, in Brownsville, Pennsylvania. He graduated from Mount Union College, Alliance, Ohio in 1872, entered the law office of H. B. Swope in Pittsburgh and was admitted to the bar in 1875. Knox was appointed Attorney General of the United States by President McKinley on April 5, 1901, and continued in that office under President Roosevelt until June 30, 1904. Governor Pennypacker appointed Knox to fill the United States Senate post vacated by the death of Honorable M. S. Quay. He took the seat on July 1, 1904, and in January of 1905 was elected by the legislature for a full term. Knox resigned his Senate seat to become Secretary of State under President Taft in 1909. He was reelected to the Senate in 1916. During his Senate career, he was responsible for drafting legislation which created the Department of Commerce, the Department of Labor and for giving the Interstate Commerce Commission regulatory authority over railroad rates. Knox died in Washington, D.C., on October 12, 1921.
About the Artist: Arthur de Ferroris
Little biographical information is available. The artist's portrait of Attorney General Knox was painted in 1905. A native of Hungary, he was known for many portraits of European heads of state and their families.
Updated July 5, 2017