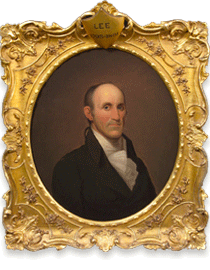 Charles Lee
Third Attorney General 1795-1801
Charles Lee was born in Leesylvania, Virginia, in 1758. He received the degree of A.B. at Princeton University in 1775. He went on to study law in Philadelphia with Jared Ingersoll and was admitted to the bar in June of 1794. He was a delegate to the Continental Congress, a member of the Virginia Assembly and served as a naval officer in the District of the Potomac.
President Washington appointed Lee Attorney General on December 10, 1795. He continued in office under President Adams, serving until March 4, 1801. Later Lee declined President Jefferson's offer of the position of Chief Justice of the United States. He died in Fauquier County, Virginia, on June 24, 1815.
About the Artist: Attributed to Cephas Giovanni Thompson (1809-1888)
Thompson was born in Middleboro, Massachusetts, but spent most of his life in New York City. He began doing portraits at the age of 18, and studied art in Italy (1852-60) while living there with his family. His collection of portraits of famous American authors is now owned by the New York Historical Society.
It is thought that the Justice Department painting may be a copy of the Charles Lee painting by Thompson owned by the National Portrait Gallery.
Updated July 7, 2017