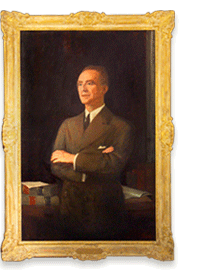 Frank Murphy
Fifty-Sixth Attorney General 1939-1940
Frank Murphy was born on April 13, 1890, in Harbor Beach, Michigan, Frank Murphy received his LL.B. from the University of Michigan Law School in 1914 and was admitted to the Michigan bar in the same year. Murphy enlisted in the United States Army and served as an officer during World War I. He was an assistant United States attorney in the Eastern District of Michigan from 1919 to 1920 and briefly taught law at the University of Detroit. He was elected mayor of Detroit, Michigan, in 1930 and 1932, and was the first president of the United States Association of Mayors. Murphy served as Governor-General of the Philippine Islands in 1933, and first United States High Commissioner to the Philippines from 1935 to 1936. Elected Governor of Michigan in 1936, he served through 1938. On January 2, 1939, he was appointed Attorney General of the United States by President Roosevelt. The next year, on January 4, 1940, Murphy was appointed Associate Justice of the Supreme Court of the United States. He died on July 19, 1949, in Detroit, Michigan.
Speeches of Attorney General Frank Murphy
About the Artist: Augustus Vincent Tack (1870-1949)
Born in Pittsburgh, Pennsylvania, Tack studied in New York City and Paris. He is well-known for his murals and portraits. Some of his murals are in the Nebraska State Capitol at Lincoln. His portrait of Chief Justice Charles Evans Hughes is in the National Gallery in Washington, D. C. Other Tack portraits are exhibited in the National Portrait Gallery.
Updated June 29, 2017