Historical Biography
Attorney General: Elliot Lee Richardson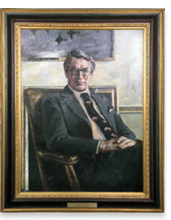 Elliot Lee Richardson was born in Boston, Massachusetts, on July 20, 1920. He graduated cum laude from Harvard in 1941, served in the United States Army from 1942 to 1945, and graduated cum laude from Harvard Law School in 1947, where he was president of the Law Review. For a year he was law clerk to Judge Learned Hand of the United States Court of Appeals for the Second Circuit. The following year he served as law clerk to Supreme Court Justice Felix Frankfurter. From 1949 to 1953, and again from 1955 to 1956, he practiced law in Boston. In 1953 and 1954, Richardson was assistant to Massachusetts Senator Leverett Saltonstall, who was then chairman of the Senate Armed Services Committee. He served as Assistant Secretary of Health, Education, and Welfare for Legislation from 1957 to 1959, and as Acting Secretary of Health, Education, and Welfare from April to July 1958. He was United States attorney for Massachusetts from 1959 to 1961, and in 1961 served as a special assistant to the Attorney General of the United States. In 1964 he was elected Lieutenant Governor of Massachusetts, and from 1967 to 1969 he served as attorney general of the State. Richardson was Under Secretary of State from January 24, 1969, until he assumed leadership of the Department of Health, Education, and Welfare as Secretary from June 24, 1970, to January 29, 1973. He served as Secretary of Defense from January 30, 1973, to May 24, 1973. President Nixon appointed him Attorney General of the United States and he was confirmed on May 23, 1973. He resigned from the post on October 20, 1973. President Ford chose Richardson as Ambassador to Britain in 1975, and then on December 11, 1975, appointed him Secretary of Commerce. He died December 31, 1999.
About the Artist: Harold Riley
(1934- )
Harold Riley was born in Salford, England and won a scholarship at the age of 17 to the Slade School of Fine Art in London. He studied in Italy and Spain before returning to Salford, where a collection of his works has been preserved by the Salford City Council. The portrait of Attorney General Richardson was painted in 1975 when he was Ambassador to the United Kingdom.
Updated October 25, 2022