David DeVillers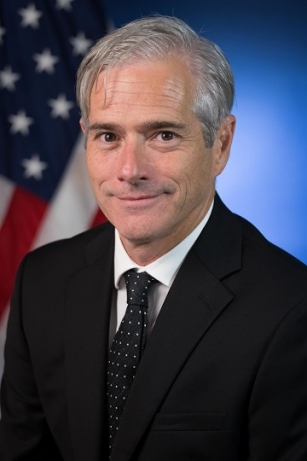 David DeVillers is the Former United States Attorney for the Southern District of Ohio from November 1, 2019 thru February 28, 2021.  Prior to that he was an Assistant United States Attorney.  He also served as Director of the Organized Crime/Gang Unit for the Franklin County Prosecutor's Office in Columbus.
As an Assistant United States Attorney (AUSA) DeVillers has lead numerous task forces involving the FBI, ATF, DEA, IRS and the Columbus Division of Police in investigating and prosecuting organized crime. He also prosecuted numerous cases under federal murder statutes, including all seven murder trials prosecuted in the Southern District of Ohio since 2002. 
In 2016, DeVillers prosecuted the largest federal murder case in Ohio's history, charging 20 members of the Short North Posse with RICO and 14 separate murders. After a two-and-half month trial, each defendant was convicted of all counts.
DeVillers was sent to Iraq by the Department of Justice as a Prosecutor Advisor to Iraqi High Tribunal for the Anfal (Kurdish Genocide) trial of Saddam Hussein and other members of former Iraqi Regime from 2006 through 2007. He also investigated additional crimes against humanity perpetrated by the former Iraqi Regime while in Iraq.
DeVillers was sent to Iraq in 2004 by the Department of Justice to investigate a Foreign Terrorist Organization.
DeVillers continued his work overseas, most notably the Department of Justice's Resident Legal Advisor to the Republic of Georgia, living in the capital city of Tbilisi from 2010 to 2012. He worked closely with the Georgian Ministry of Justice to combat trans-national crime, corruption and international money laundering. He also assisted in the drafting of Georgia's Criminal Code and the introduction of jury trials in murder cases.
DeVillers has also traveled for the Department of Justice to countries including Ukraine, Albania, Bangladesh, Kyrgyzstan and Azerbaijan to combat terrorism, transnational crime and corruption.
DeVillers received the Mark Losey Distinguished Service Award by the Ohio Attorney General in 2018. He was awarded the J. Michael Bradford Memorial Award for the Nation's Most Outstanding Assistant United States Attorney by The National Association of Former United States Attorneys in 2008. He was voted the Outstanding Assistant Prosecutor of the Year for 1999 by the Ohio Prosecuting Attorney's Association.
[This page is no longer updated]
Updated March 1, 2021