U.S. Attorneys
U.S. Attorneys
U.S. Attorney Spotlight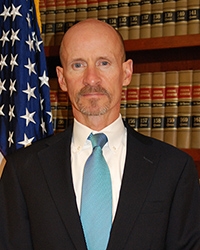 Robert C. Troyer
District of Colorado
Bob Troyer was born in Colorado and grew up in Washington DC. He graduated from Pomona College in 1984 with a BA in English. For several years after college, Bob taught high school English in Washington DC and worked during the summers as a commercial fisherman in Alaska. He then attended Boston College Law School, where he served as the Solicitations Editor for the Boston College Law Review, graduating in 1990.
Kevin E. VanderSchel
Southern District of Iowa
Kevin VanderSchel is a 1980 graduate of Drake Law School in Des Moines, Iowa, having obtained his undergraduate degree in 1977 in Industrial Administration/Accounting from Iowa State University in Ames, Iowa. Kevin began his legal career as an Assistant Polk County Attorney in Des Moines, Iowa, serving in the Criminal Division of that office from 1980 through 1984.