Historical Biography
Shiro Kashiwa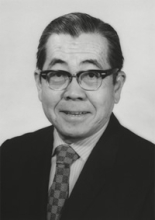 20th
Assistant Attorney General, Lands Division, -
Early History/Schooling: Shiro Kashiwa was born in 1913 in Kohala, Hawaii. He earned his undergraduate and law degrees from the University of Michigan in 1935 and 1936, respectively.
Tenure as AAG: Kashiwa was appointed AAG by President Nixon in 1969. While AAG, Kashiwa became the first Japanese-American and member of the Hawaii bar to represent the United States before the U.S. Supreme Court. Under Kashiwa, the Division filed its first suit to halt thermal pollution, the defendant being the Florida Power and Light Company. Kashiwa also oversaw several early water pollution cases, including a major case against Armco Steel. In December 1970, the Division sued Armco Steel for pollution of Houston's Ship Channel in violation of the Refuse Act. A federal judge ordered the company to stop dumping cyanide into waters near Houston, Texas. The Division then entered into a settlement with Armco, and Kashiwa subsequently was involved in a controversy over whether the Nixon White House pressured the Division to settle the case on terms favorable to the company.
Career: After receiving his law degree from the University of Michigan, Kashiwa returned to Hawaii to practice law for several years. In 1959, he became the first Hawaii Attorney General appointed during statehood, then returned to private practice in 1962. After leaving the Department of Justice in 1972, he became a judge on the U.S. Court of Claims, which in 1982 became part of the newly-established Court of Appeals for the Federal Circuit. He retired in 1989.
Personal: In 1995, Kashiwa received the Order of the Sacred Treasure, with gold and silver stars, from the government of Japan, recognizing him as the first person of Japanese descent to have been appointed to the positions he held in the U.S. government. Kashiwa had a wife, Mildred, and two children, Gregg and Wendy. He died in Honolulu in 1998.
This material is based on the review of a variety of historical sources, and its accuracy cannot be guaranteed. If you have any corrections or additional information about this individual or about the history of the Division, please contact ENRD.
Updated June 8, 2023