History of the Federal Use of Eminent Domain
Early Evolution of Eminent Domain Cases
The federal government's power of eminent domain has long been used in the United States to acquire property for public use. Eminent domain ''appertains to every independent government. It requires no constitutional recognition; it is an attribute of sovereignty." Boom Co. v. Patterson, 98 U.S. 403, 406 (1879). However, the Fifth Amendment to the U.S. Constitution stipulates: "nor shall private property be taken for public use, without just compensation." Thus, whenever the United States acquires a property through eminent domain, it has a constitutional responsibility to justly compensate the property owner for the fair market value of the property. See Bauman v. Ross, 167 U.S. 548 (1897); Kirby Forest Industries, Inc. v. United States, 467 U.S. 1, 9-10 (1984).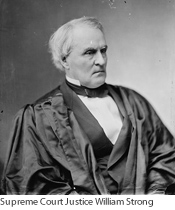 The U.S. Supreme Court first examined federal eminent domain power in 1876 in Kohl v. United States. This case presented a landowner's challenge to the power of the United States to condemn land in Cincinnati, Ohio for use as a custom house and post office building. Justice William Strong called the authority of the federal government to appropriate property for public uses "essential to its independent existence and perpetuity." Kohl v. United States, 91 U.S. 367, 371 (1875). 

The Supreme Court again acknowledged the existence of condemnation authority twenty years later in United States v. Gettysburg Electric Railroad Company. Congress wanted to acquire land to preserve the site of the Gettysburg Battlefield in Pennsylvania. The railroad company that owned some of the property in question contested this action. Ultimately, the Court opined that the federal government has the power to condemn property "whenever it is necessary or appropriate to use the land in the execution of any of the powers granted to it by the constitution." United States v. Gettysburg Electric Ry., 160 U.S. 668, 679 (1896).
Condemnation: From Transportation to Parks
Eminent domain has been utilized traditionally to facilitate transportation, supply water, construct public buildings, and aid in defense readiness. Early federal cases condemned property for construction of public buildings (e.g., Kohl v. United States) and aqueducts to provide cities with drinking water (e.g., United States v. Great Falls Manufacturing Company, 112 U.S. 645 (1884), supplying water to Washington, D.C.), for maintenance of navigable waters (e.g., United States v. Chandler-Dunbar Co., 229 U.S. 53 (1913), acquiring land north of St. Mary's Falls canal in Michigan), and for the production of war materials (e.g. Sharp v. United States, 191 U.S. 341 (1903)). The Land Acquisition Section and its earlier iterations represented the United States in these cases, thereby playing a central role in early United States infrastructure projects.

Condemnation cases like that against the Gettysburg Railroad Company exemplify another use for eminent domain: establishing parks and setting aside open space for future generations, preserving places of historic interest and remarkable natural beauty, and protecting environmentally sensitive areas. Some of the earliest federal government acquisitions for parkland were made at the end of the nineteenth century and remain among the most beloved and well-used of American parks. In Washington, D.C., Congress authorized the creation of a park along Rock Creek in 1890 for the enjoyment of the capitol city's residents and visitors. The Department of Justice became involved when a number of landowners from whom property was to be acquired disputed the constitutionality of the condemnation. In Shoemaker v. United States, 147 U.S. 282 (1893), the Supreme Court affirmed the actions of Congress.

Today, Rock Creek National Park, over a century old and more than twice the size of New York City's Central Park, remains a unique wilderness in the midst of an urban environment. This is merely one small example of the many federal parks, preserves, historic sites, and monuments to which the work of the Land Acquisition Section has contributed. 
Land Acquisition in the Twentieth Century and Beyond
The work of federal eminent domain attorneys correlates with the major events and undertakings of the United States throughout the twentieth century. The needs of a growing population for more and updated modes of transportation triggered many additional acquisitions in the early decades of the century, for constructing railroads or maintaining navigable waters. Albert Hanson Lumber Company v. United States, 261 U.S. 581 (1923), for instance, allowed the United States to take and improve a canal in Louisiana. 
The 1930s brought a flurry of land acquisition cases in support of New Deal policies that aimed to resettle impoverished farmers, build large-scale irrigation projects, and establish new national parks. Condemnation was used to acquire lands for the Shenandoah, Mammoth Cave, and Great Smoky Mountains National Parks. See Morton Butler Timber Co. v. United States, 91 F.2d 884 (6th Cir. 1937). Thousands of smaller land and natural resources projects were undertaken by Congress and facilitated by the Division's land acquisition lawyers during the New Deal era. For example, condemnation in United States v. Eighty Acres of Land in Williamson County, 26 F. Supp. 315 (E.D. Ill. 1939), acquired forestland around a stream in Illinois to prevent erosion and silting, while Barnidge v. United States, 101 F.2d 295 (8th Cir. 1939), allowed property acquisition for and designation of a historic site in St. Louis associated with the Louisiana Purchase and the Oregon Trail.
During World War II, the Assistant Attorney General called the Lands Division "the biggest real estate office of any time or any place." It oversaw the acquisition of more than 20 million acres of land. Property was transformed into airports and naval stations (e.g., Cameron Development Company v. United States 145 F.2d 209 (5th Cir. 1944)), war materials manufacturing and storage (e.g., General Motors Corporation v. United States, 140 F.2d 873 (7th Cir. 1944)), proving grounds, and a number of other national defense installations. 
Land Acquisition Section attorneys aided in the establishment of Big Cypress National Preserve in Florida and the enlargement of the Redwood National Forest in California in the 1970s and 1980s. They facilitated infrastructure projects including new federal courthouses throughout the United States and the Washington, D.C. subway system, as well as the expansion of facilities including NASA's Cape Canaveral launch facility (e.g., Gwathmey v. United States, 215 F.2d 148 (5th Cir. 1954)). 
Photo by UDGS

The numbers of land acquisition cases active today on behalf of the federal government are below the World War II volume, but the projects undertaken remain integral to national interests. In the past decade, Section attorneys have been actively involved in conservation work, assisting in the expansion of Everglades National Park in Florida (e.g., U.S. v. 480.00 Acres of Land, 557 F.3d 1297 (11th Cir. 2009)) and the creation of Valles Caldera National Preserve in New Mexico. In the aftermath of the September 11, 2001 terrorist attacks, Land Acquisition Section attorneys secured space in New York for federal agencies whose offices were lost with the World Trade Towers. Today, Section projects include acquiring land along hundreds of miles of the United States-Mexico border to stem illegal drug trafficking and smuggling, allow for better inspection and customs facilities, and forestall terrorists.
Properties acquired over the hundred years since the creation of the Environment and Natural Resources Division are found all across the United States and touch the daily lives of Americans by housing government services, facilitating transportation infrastructure and national defense and national security installations, and providing recreational opportunities and environmental management areas. 
For information on the history of the Land Acquisition Section, see the History of the Section. And for more on the procedural aspects of eminent domain, see the Anatomy of a Condemnation Case.
Updated September 11, 2023