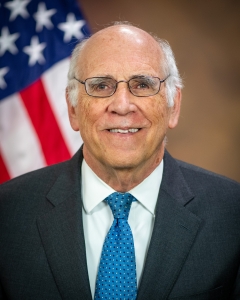 Staff Profile
Assistant Attorney General for the Office of Legal Counsel
Christopher H. Schroeder was appointed by the President as Assistant Attorney General for the Office of Legal Counsel on October 29, 2021, following his confirmation for that position by the Senate.
The Assistant Attorney General in charge of the Office of Legal Counsel provides legal advice to the President and all Executive Branch agencies. The Office drafts legal opinions of the Attorney General and provides its own written opinions and other advice in response to requests from the Counsel to the President, the various agencies of the Executive Branch, and other components of the Department of Justice. Such requests typically deal with legal issues of particular complexity and importance or those about which two or more agencies are in disagreement. The Office is also responsible for reviewing and commenting on the constitutionality of pending legislation and for approving the form and legality of executive orders and substantive proclamations issued by the President.
Mr. Schroeder previously served in the Office of Legal Counsel during the administration of President Clinton, where he was Deputy Assistant Attorney General from 1993 to 1996 and designated as acting Assistant Attorney General in 1996. Most recently, Mr. Schroeder was the Professor Emeritus of Law and Professor Emeritus of Public Policy at Duke University and for many years was Charles S. Murphy Professor of Law and Professor of Public Policy Studies at Duke.
Mr. Schroeder also served as Assistant Attorney General for the Office of Legal Policy at the Department of Justice for nearly three years during the administration of President Obama. In that capacity he supervised the evaluation of President Obama's nominees to the federal judiciary and provided policy advice to the Attorney General and the White House on a variety of law enforcement and national security issues.
Mr. Schroeder has served as chief counsel to the Senate Judiciary Committee, as of counsel for the law firm of O'Melveny & Myers, and as founding partner of the law firm of Armour, Schroeder, St. John Wilcox and Goodlin. He received his bachelor's degree from Princeton University in 1968, master of divinity degree from Yale Divinity School in 1971, and J.D. degree from the University of California, Berkeley School of Law in 1974, where he was Editor in Chief of the California Law Review.
Dates of Service
2021
-
Present
Updated March 8, 2023