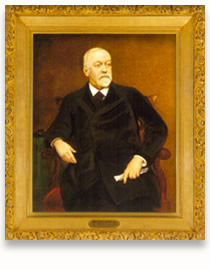 Benjamin Bristow
First Solicitor General, October 1870 - November 1872
Benjamin Bristow was born June 20, 1832 in Elkton, KY, the son of Francis M. and Emily E. (Helm) Bristow. After graduating from Jefferson College in Pennsylvania in 1851, he studied law in his father's office, was admitted to the bar in 1853, and for a time was his father's partner. On November 21, 1854, he married Abbie S. Briscoe. In 1858, he moved to Hopkinsville, KY to practice law and was there when the Civil War began. Benjamin was seriously wounded by the explosion of a shell at Shiloh. Upon recovering, he helped raise the 8th Kentucky Cavalry, became its lieutenant colonel, and on April 1, 1863, was commissioned its colonel. He fought in many skirmishes and was offered a brevet as a major general, but he modestly refused it.
Bristow's war service was cut short by Kentucky politics. In August 1863, without his knowledge, he was elected to the state Senate from Christian County. He supported all Union enactments, labored for ratification of the Thirteenth Amendment, and was an active worker for Lincoln's reelection. Resigning from the Senate in 1865, he moved to Louisville and was immediately appointed Assistant U.S. Attorney;
on May 4, 1866, he was made U.S. Attorney for the Kentucky District. With Kentucky besieged with Ku Klux Klan violence, spontaneous racial clashes, and gross frauds practiced upon the internal revenue service, Bristow acted with characteristic energy and determination. He obtained 29 convictions for various crimes under the Federal Enforcement Act and one capital sentence for murder against the Klan. Attacking the distillers of illicit whiskey, he obtained more than 100 forfeitures of stocks of liquor.
Having resigned his U.S. attorneyship on January 1, 1870, he was practicing law in Louisville with John M. Harlan as partner when Congress created the post of Solicitor General. President Grant promptly appointed Bristow the first incumbent. He wrote many opinions, made arguments in several important constitutional cases before the Supreme Court, and won a reputation for mastery of federal jurisprudence. He quit office on November 12, 1872, to accept a highly paid position as counsel of the Texas & Pacific Railroad, but left soon afterward to return to Kentucky to practice law. On July 3, 1874, President Grant appointed him Secretary of the Treasury. During this service he was known for breaking up the notorious Whiskey Ring. Within a year Bristow had taken action to recover $3,150,000, had indicted 176 men, and obtained sentences for 110.
Bristow resigned from the Treasury on June 17, 1876 and this closed his official career. He moved from Louisiana to New York in 1878, and on October 16 of that year formed the partnership of Bristow, Peet, Burnett, & Opdyke, where he remained one of the leaders of the Eastern bar. He argued many cases before the Supreme Court and was noted among lawyers for his personal charm and the thoroughness and skillfulness of his arguments. In 1879 he was elected the second president of the American Bar Association, and for many years was a vice-president of the Civil Service Reform Association. In 1896 he was stricken with appendicitis and died at his home on June 22, 1896.
Updated October 31, 2014