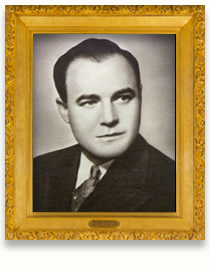 James Howard McGrath
Twenty-Seventh Solicitor General, October 1945 - October 1946
James Howard McGrath (November 28, 1903–September 2, 1966), born in Woonsocket, Rhode Island, was an American lawyer and politician. He graduated from La Salle Academy, in 1922 and he received his Ph.B. From Providence College in 1926, and LL.B. from Boston University in 1929. He was admitted to the Rhode Island bar in 1929, and later years was the recipient of numerous honorary degrees. From 1930 to 1934 he was city solicitor of Central Falls, Rhode Island. During this time he was also interested in the real estate and insurance business and was in banking.
He served as U.S. District Attorney for the District of Rhode Island from 1935 to 1940. From 1940 until 1945 he was Governor of Rhode Island. McGrath served as Solicitor General of the United States from 1945 to 1946. He was elected as a Democrat to the United States Senate from Rhode Island in 1946 and served as chairman of the U.S. Senate Committee on the District of Columbia for the 81st Congress. He was chairman of the Democratic National Committee from 1947 to 1949. President Harry Truman appointed McGrath Attorney General of the United States on August 24, 1949. He resigned from that office on April 7, 1952 and entered the private practice of law in Washington, D.C. and Providence. He was an unsuccessful candidate for nomination as United States Senator in 1960.
McGrath died in Narragansett, Rhode Island September 2, 1966 and is buried in St. Francis Cemetery, Pawtucket, Rhode Island.
Updated October 31, 2014