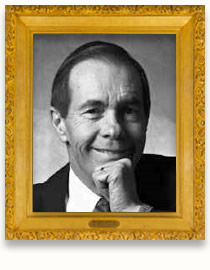 Rex Lee
Thirty-Seventh Solicitor General, August 1981 - June 1985
Rex Lee graduated first in his class from the University of Chicago Law School in 1963. From law school he went to Washington, DC, to serve as law clerk to Byron White, associate justice of the United States Supreme Court. From Washington, DC, he returned to his home state of Arizona, where, as a partner in the Phoenix law firm of Jennings, Strouss & Salmon, he established himself as a lawyer of incredible promise. Within four years of graduating from law school (and before he had even taken a single deposition in any lower court civil proceeding) Rex argued his first case in the United States Supreme Court. In 1972 Rex left his burgeoning legal career to become the founding dean of the J. Reuben Clark Law School at Brigham Young University.
He served the nation, first as an assistant attorney general in charge of the Civil Division in the United States Department of Justice from 1975 to 1976, and then as solicitor general of the United States from 1981 to 1985. As solicitor general, Rex had the incredible opportunity to focus entirely on the legal effort he enjoyed most: briefing and arguing cases in the United States Supreme Court. Supreme Court briefs and arguments were vital nourishment for Rex's legal soul. (Indeed, at the time of his death, as he lay in a hospital bed, he was preparing to argue his 60th case before the Court). Rex built a unique and enduring reputation as a man committed to principle.
After resigning as solicitor general, he returned to Provo and Brigham Young University (BYU) in 1986. Shortly thereafter, he was diagnosed with cancer. Following a year of medical treatment and therapy, Rex recovered, for a time, and was named president of BYU. Rex served the university community with distinction from July 1989 until December 1995, just two and one-half months before he passed away.
Updated October 31, 2014