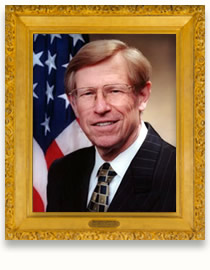 Theodore B. Olson
Forty-Second Solicitor General, June 2001 - July 2004
Theodore B. Olson was the 42nd Solicitor General of the United States. He was nominated by President Bush on February 14, 2001, confirmed by the United States Senate, and took the oath of office on June 11, 2001.
Mr. Olson was born in Chicago, Illinois, and was educated in public schools in California. He received his bachelor's degree cum laude from the University of the Pacific in Stockton, California, where he received awards as the outstanding graduating student in both journalism and forensics, and his law degree from the University of California at Berkeley (Boalt Hall), where he was a member of the California Law Review and Order of the Coif.
Mr. Olson served President Reagan as Assistant Attorney General for the Office of Legal Counsel from 1981 to 1984. Before being named to that post, he was a partner in the Los Angeles office of Gibson, Dunn & Crutcher, where he practiced constitutional, media, commercial and appellate litigation. After completing his service as Assistant Attorney General, Mr. Olson returned to Gibson, Dunn & Crutcher, in its Washington, D.C. office, engaging in the practice of constitutional and appellate law and general litigation, and served as Partner-in-Charge of that office, on the firm's Executive and Management Committees and as co-chair of the firm's Appellate and Constitutional Law Practice Group.
Mr. Olson has argued numerous cases before the Supreme Court of the United States, including cases involving constitutional and federal statutory issues regarding copyright, telecommunications, federal securities regulation, antitrust, the environment, school vouchers, the internet, the 2000 census, property rights, punitive damages, criminal law, immigration, the right to a jury trial, due process, voting rights, equal protection, separation of powers, the ex post facto clause, the speech, press and religion clauses of the First Amendment, the powers of the President, and the constitutionality of the McCain-Feingold campaign finance reform law. Before rejoining the Justice Department in 2001, he successfully represented candidates George W. Bush and Dick Cheney in the Supreme Court Bush v. Gore cases involving the 2000 presidential election.
Mr. Olson is a Fellow of both the American College of Trial Lawyers and the American Academy of Appellate Lawyers. He has written and lectured extensively on appellate advocacy, oral advocacy in the courtroom and constitutional law.
Updated October 31, 2014