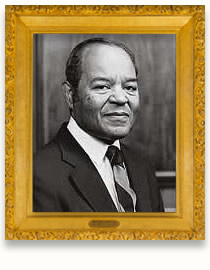 Wade Hampton McCree, Jr.
Thirty-Sixth Solicitor General, March 1977 - August 1981
Wade Hampton McCree, Jr., was born on July 3, 1920, in Des Moines, Iowa, the second of four children. His father was a pharmacist and became a federal narcotics inspector, a job which took the McCree family to Hawaii, Chicago, and Boston. McCree graduated from the famous Boston Latin School and attended Nashville's Fisk University, his parents' alma mater, from which he graduated summa cum laude and Phi Beta Kappa in 1941. He then began studies at Harvard Law School, but World War II intervened and McCree was inducted into the U.S. Army. He spent four years on active duty, including two years in combat in the Mediterranean. There, he rose to the rank of Captain and earned a Bronze Star.
Returning to civilian life, McCree married Dores McCrary in 1946. He graduated from Harvard in 1948, but was given a degree, nunc pro tunc , as a member of the class of 1944, in which he ranked twelfth. The McCrees moved to Detroit, where Wade entered private practice. Not long after, in 1952, McCree's skills were recognized by Michigan Governor G. Mennen Williams, who appointed McCree to the state's Workers' Compensation Commission. Two years later, Williams gave McCree an appointment as a trial judge on the Wayne County Circuit Court. The next year, McCree won a retention election, making him Michigan's first elected black judge.
President John F. Kennedy appointed him to the U.S. District Court for the Eastern District of Michigan in 1961, the first for an African-American. In 1966 President Lyndon B. Johnson appointed him to the U.S. Court of Appeals for the 6th Circuit, another first for an African-American. In his decades on the bench, McCree was known as a careful craftsman of opinions and a master wordsmith. He strongly favored protecting individual rights against encroachment from the government, and had a pro-civil rights record on issues such as defendants' rights and busing. McCree's quiet, hardworking nature contrasted with a friendly, jovial side to his personality.
McCree was also known as the "poet laureate of the Sixth Circuit,"a reference both to the command of language evidenced in his opinions, and to his impressive facility for writing impromptu limericks, which he used to break the tension during combative discussions. He served on the Sixth Circuit for over ten years, until his appointment as the thirty-sixth Solicitor General of the United States in 1977. As solicitor general, McCree personally argued 25 cases in the U.S. Supreme Court, including the Richard Nixon presidential tapes case and the Bakke "reverse discrimination" case.
After ending his service as solicitor general in 1981, McCree refused numerous offers of employment from prestigious law firms to become the Lewis M. Simes Professor of Law at the University of Michigan Law School. While a professor, he served three times as a Special Master for the United States Supreme Court. It is unclear if McCree had an offer to return to the federal bench, or if he would have accepted such an offer, though it is reported that he did decline the chance to serve on the Michigan Supreme Court. On August 30, 1987, McCree died of a heart attack, a complication of his treatment for bone cancer. He was 67.
Updated October 31, 2014