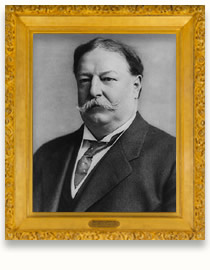 William Howard Taft
Sixth Solicitor General, February 1890 - March 1892
William Howard Taft was born in Cincinnati, Ohio, on September 15, 1857. After graduating in 1878 from Yale University, Taft attended the law school at the University of Cincinnati. He began practicing law in Ohio in 1880. By 1887, Taft was a superior court judge. In 1889, at age 32, Taft urged others to convince President Benjamin Harrison, a lawyer, to appoint him to the Supreme Court. Harrison declined, but Taft did win appointment to the position of Solicitor General. After three years as solicitor general, Taft was appointed to the United States Court of Appeals for the Sixth Circuit. In 1900, Taft was appointed to the Philippine Commission, created after the War of 1898 led to the cession of the Philippines to the United States by Spain. Taft remained in the Philippines for four years, eventually serving as Governor General. In 1904, Taft was appointed Secretary of War by President Teddy Roosevelt. In 1908, the Republican Taft won the presidential election, defeating William Jennings Bryan. Taft was able to make six appointments to the Supreme Court during his four years as President, the greatest number of appointments made in any four year term other than in George Washington's first term.
After his defeat in 1912, Taft returned to his alma mater, Yale, to teach law. In 1921, the Republicans once again occupied the White House. President Harding nominated Taft to the position of Chief Justice after the death of Edward White, whom Taft had appointed to that position. The Senate confirmed Taft's nomination the same day it was sent to it. Taft thus became the only person to serve as both President and as a Justice of the Supreme Court.
Taft was a conservative judge who distrusted reform legislation that he believed too radical. In Truax v. Corrigan (1921), Taft wrote the Court's opinion declaring unconstitutional Arizona's efforts to limit the issuance of injunctions by judges during a labor strike. The injunction was a powerful tool against labor unions. But Taft saw the legislation as too heavily favoring labor. Taft also wrote an opinion for the Court declaring unconstitutional a congressional effort to outlaw child labor through use of the taxing power. Taft did dissent in Adkins v. Children's Hospital (1923), which held unconstitutional a minimum wage law for women in the District of Columbia. Taft was interested in judicial administration and his lobbying efforts led to the passage of the Judiciary Act of 1925.
Taft resigned from the Court due to illness in February 1930. He died a month later, on March 8, 1930.
Updated January 20, 2016